As the threat landscape continues to evolve, the needs expressed by companies are changing. Chief Information Security Officers must constantly adjust their demands. Risk is now the main topic. Adaptation to this paradigm shift is thus necessary. The diversity of techniques and technologies, along with the level of proactivity required, can greatly complicate the work.
Defenders are therefore faced with a double challenge: combining different cybersecurity solutions while responding to threats without delay. Via its interoperability and hyperautomation capabilities, TEHTRIS XDR Platform helps them meet this challenge.
TEHTRIS XDR offers a higher level of interoperability by being an open platform
TEHTRIS has developed TEHTRIS XDR Platform to meet the technological needs of CISOs. This "Open XDR" solution enables the integration of third-party cybersecurity solutions. Unlike most Open XDRs, which only offer fragmented interoperability, TEHTRIS XDR Platform can natively integrate with several hundred products on the market.
Moreover, it is supported by all operating systems… even those no longer maintained by their editors! It is thus compatible with all OS, applications, databases, clouds and network infrastructures (Apple, Microsoft, Linux, IBM, Oracle, Cisco, HP…).
"We were specifically looking for an XDR solution offering a cohesive cybersecurity approach while enabling us to leverage our existing tools."
Testimonial of a TEHTRIS customer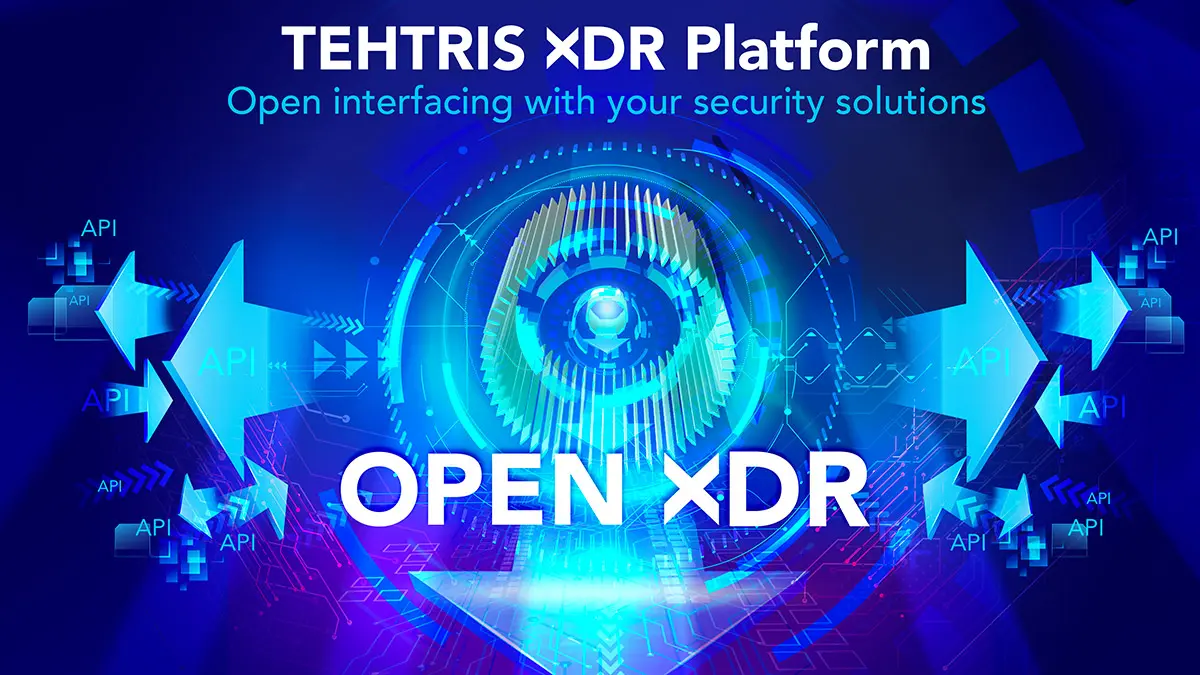 This capacity of integration is also offered by TEHTRIS ECOSYSTEM, an initiative of the French scale-up, whose goal is to gather recognized partners (Proofpoint, CyberAngel, TheGreenBow, eShard, CyberDetect, Dust Mobile, Comae, CELTEAM…). The interoperability of these solutions, along with our other partnerships, allow CISOs to benefit from services such as Managed XDR, MDR, SOC, MSSP, Threat Hunting, CSIRT, etc., or to simply add complementary modules developed by TEHTRIS.
The interoperability, and more broadly the security coverage of TEHTRIS XDR Platform, can be tailored to suit specific needs. Indeed, the integration with external applications or solutions is unlimited, as TEHTRIS' Open XDR is developed around very powerful and efficient APIs. These APIs allow an effortless and flexible integration of numerous existing tools. This is a first step to time saving, the second being provided by hyperautomation.
TEHTRIS XDR Platform: how to go from automation to hyperautomation
"Only 37 minutes elapsed between the intrusion and the deployment of the ransomware program. We're thankful for automatic remediation: our IS wouldn't have made it through with a human-managed neutralization."

 
Testimonial of a TEHTRIS customer
TEHTRIS XDR Platform responds with hyperautomation to the problem of immediacy encountered by CISOs when facing threats. With this approach, based on the integrated SOAR notably, the entire infrastructure is monitored without any manual steps. Information coming from the various security tools is intelligently correlated to provide 360-degree visibility. This allows analysts to focus on fundamental parts (context, explanation and remediation), as detection and incident response is hyperautomated.
How does it work in practice? The Open XDR modules constantly scan the ecosystem and analyze the perimeter. They detect threats in real time, map them and then process them by providing key information on context. The source of the threat and the risk are analyzed, correlated and prioritized. All that remains is to orchestrate all information to find the right rhythm. Once all actions are completed, the security team can quickly propose actions to mitigate the risk. This system is extra effective since it will feed on its own discoveries and will learn from them. Say hello to cross-functional security and goodbye to stovepiped approach!
The need for hyperautomation, which has become an operational reality, is one of the historical concerns of the French cyber expert. Indeed, using its experience as a world pioneer in the field of cybersecurity, TEHTRIS has been able to develop an XDR platform capable of ensuring a level of hyperautomation like no other.
What makes TEHTRIS' XDR solution different?
TEHTRIS solutions have been deployed since 2013. This head start has allowed the vendor to develop its XDR platform's technologies, which are now used in more than 100 countries. The recognition does not come from the market only. In fact, TEHTRIS is recognized as a representative vendor in Gartner's "Market Guide for Extended Detection and Response" for its XDR technology. [1]
In addition, TEHTRIS' XDR solution is among the leaders when it comes to native power, thanks to the provision of thousands of alerts, correlations and playbooks, as well as over 200 million IoCs in its CTI.
It is powerful yet easy and quick to deploy, with all components available as stand-alone units or natively integrated with the platform. Its licensing model is extremely simple and can be included in a managed service model, with trained, experienced and certified partners in many countries. Finally, it offers scalability to protect the IT assets of any size of businesses.
Combining interoperability and hyperautomation for an effective and instant response
As the cyber threat grows in intensity and complexity, the response must be strong. That is the main purpose of TEHTRIS XDR Platform, as it provides cybersecurity operations teams with both a hyperautomated response for threat analysis and neutralization and a solution that is integrated with their security tools.
[1] Craig Lawson, Peter Firstbrook, Paul Webber – Market Guide for Extended Detection and Response – 8 November 2021