TEHTRIS has launched many objectives regarding technical innovations, growth, recruitment and training. Cybersecurity is a fast-moving sector, strongly linked to new technologies, and cyber threats are becoming ever more sophisticated.
This is the world that is increasingly attracting young graduates in the field of information technology who are eager to take up new challenges and master cyber defense techniques.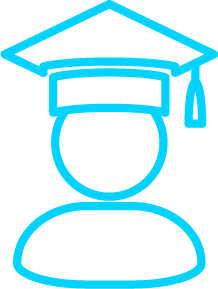 Training for anticipation
Over the past two years, TEHTRIS has registered an increase of 250% in recruitment. We are recruiting analysts to arm our SOC (Security Operations Center). The R&D department builds the TEHTRIS XDR Platform defensive weapons that are deployed at our customers' sites, but then pilots are needed to conduct defensive wars remotely. Our SOC team performs services such as detection of espionage and removal of stealth back doors. In order to ensure that new recruits are reactive and operational, TEHTRIS created a Cybersecurity Academy (CA). The Cybersecurity Academy set up a program to train analysts who will use the TEHTRIS XDR Platform, so that they are able to monitor and manage all types of security incidents for our customers.
There are several programs to help students achieve their training objectives. In particular, a first 4-week course that allows students to acquire essential knowledge in cybersecurity and provides methodologies for research, recognition and remediation of known attacks by our customers.
These training courses can be used by our customers and TEHTRIS XDR Platform partners (SOC training on our products) with adapted modules. These programs are intended both for experienced technicians seeking further training and SOC integration, as well as for a non-expert audience.
For TEHTRIS, raising awareness of cyber risks is the first weapon in the fight against modern cyber attacks.