TEHTRIS XDR Platform

eXtended Detection & Response
The XDR infrastructure brings together multiple security solutions into one cohesive platform capable of detecting and responding to security incidents.
TEHTRIS recognized as a Representative Vendor in the 2021 Market Guide for Extended Detection and Response*
Increased Detection and Response
TEHTRIS XDR Platform addresses several critical needs. It uses its network of sensors, such as Endpoint Detection and Response components, to improve the protection, detection and attack response capabilities of the network where it is positioned. Be prepared for the unexpected.
Centrally configurable, it provides an intuitive system for building your own decision trees on what to do in the event of an attack.
Having a centralized holistic view, in the platform's unified console, allows cybersecurity analysts to mix different sources, without ever experiencing a blind spot.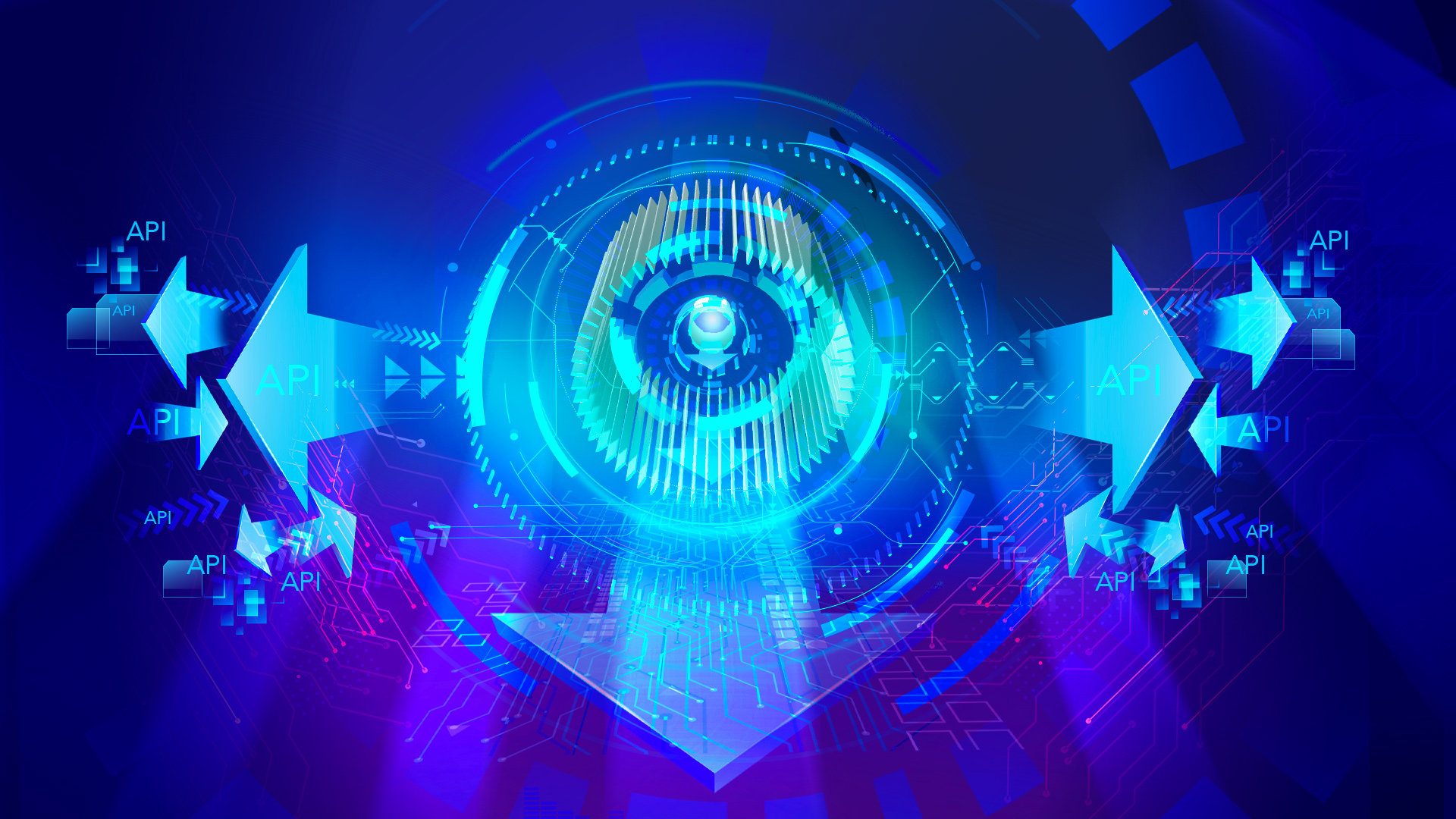 Consolidate all your security tools into one open platform
The unification of the TEHTRIS XDR Platform components is also done through numerous TEHTRIS solutions : EDR, EPP, MTD, SIEM, Honeypots, NTA, DNS Firewall, Zero Trust Response, etc. A dynamic sharing between components is possible thanks to the relationships between the products, with automations through integrated SOAR, and requests related to TEHTRIS CTI (Cyber Threat Intelligence).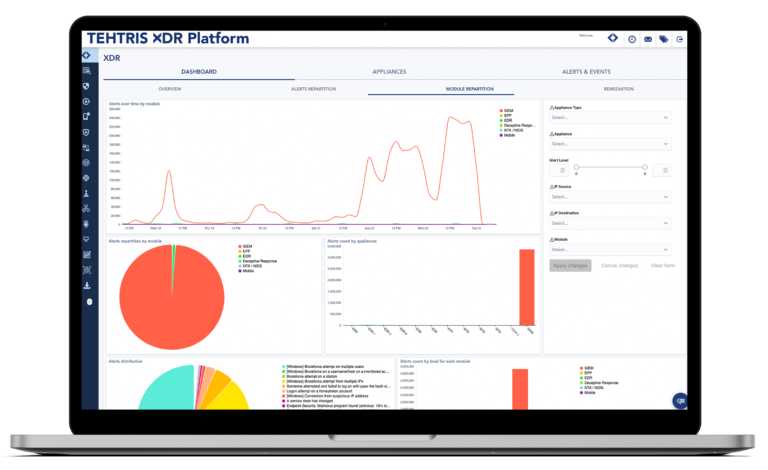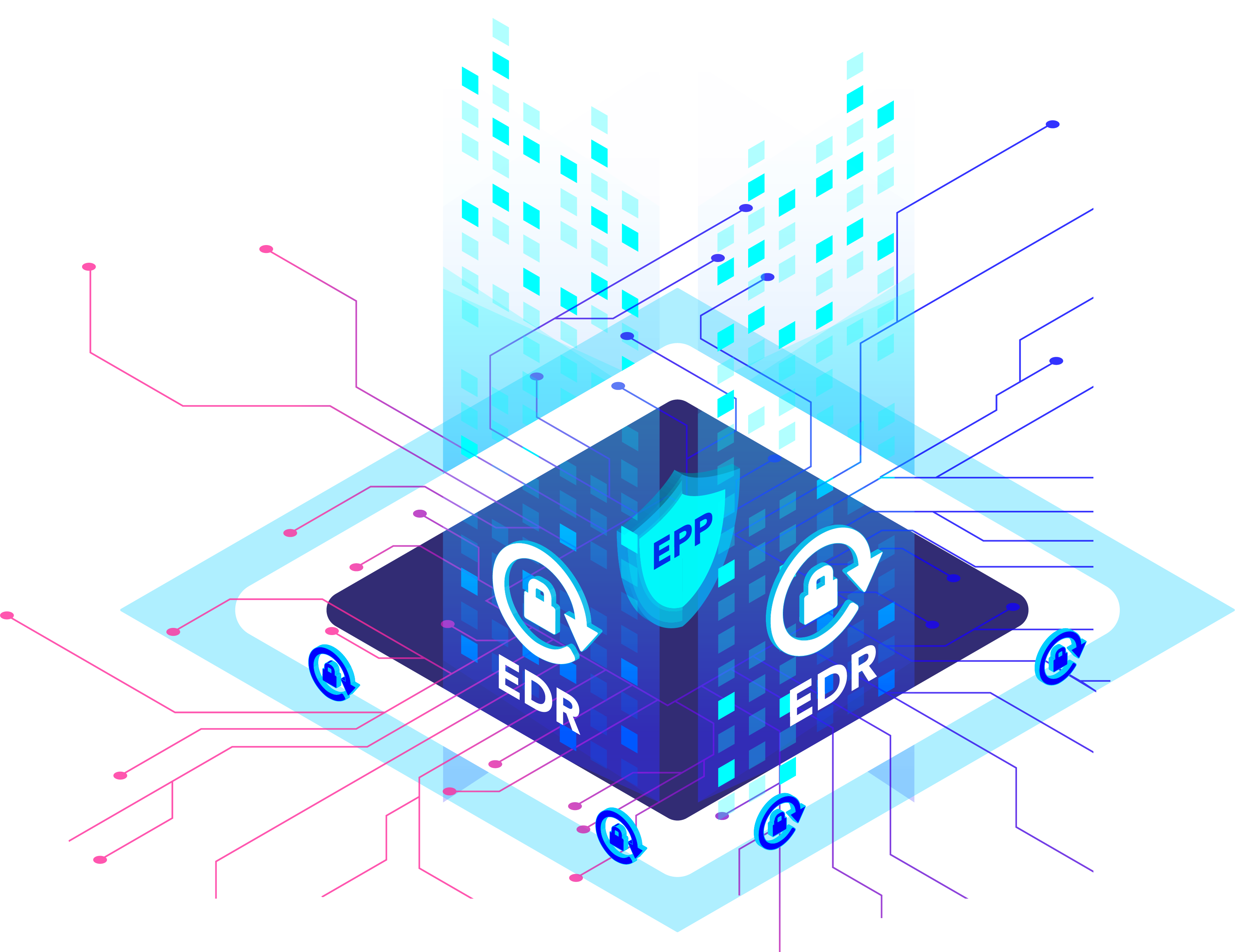 Tenfold visibility, intelligent investigations
TEHTRIS XDR Platform allows you to view all your security tools through a single dashboard. You control all the vectors that attackers can activate. Our artificial intelligence CYBERIA consolidates alerts to eliminate false positives and assist analysts.
Open XDR Platform: interface your multi-brand products
TEHTRIS XDR Platform is designed to host solutions from other vendors. You can integrate SIEMs, firewalls, EDRs, IDSs from all over the world, and many other sensors into the platform.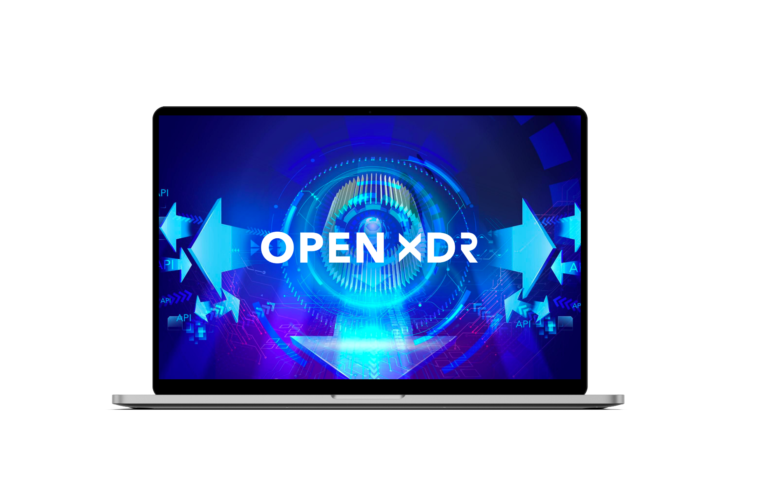 Why choose TEHTRIS XDR Platform?
SIMPLICITY
The TEHTRIS XDR Platform is modular and can be deployed in less than an hour, to protect your systems, networks and Cloud workloads.
TRACEABILITY
Without an operational SIEM for cybersecurity, or limited to logging, many companies can switch to TEHTRIS XDR which provides detection and response to attacks but also true regulatory traceability with TEHTRIS SIEM.
ARTIFICIAL INTELLIGENCE
In Machine Learning mode, monitoring of TEHTRIS XDR components by our CYBERIA AI engine allows to recognize abnormal behaviors, which simplifies the hunting work in large heterogeneous and distributed infrastructures.
HYPER AUTOMATION
TEHTRIS XDR provides both detection and response by distinguishing legitimate actions from threats, thanks to a technical unification through an integrated SOAR. It uses the captured surveillance information to respond to an attack, for example by neutralizing a threat, or by providing useful enrichment to analysts.
COHERENCY
In 2014, TEHTRIS already had an EDR agent, SIEM, NTA and honeypots, in-house coded at TEHTRIS, and natively integrated into a technical platform, called eGambit, which became the basis of the TEHTRIS XDR Platform.
ONLY EUROPEAN XDR
The platform is developed in France on the basis of completely new code. Choose a solution without backdoors, whose "Security & Ethics by design" guarantees the confidentiality of the data it analyzes.
Embedded with TEHTRIS SOAR
(Security Orchestration And Response)
When it comes to cybersecurity, orchestrating events and reacting to threats effectively and quickly is a fundamental challenge. One of the best ways to do this is with powerful automation and artificial intelligence. This is what TEHTRIS offers with its SOAR integrated with the TEHTRIS XDR Platform.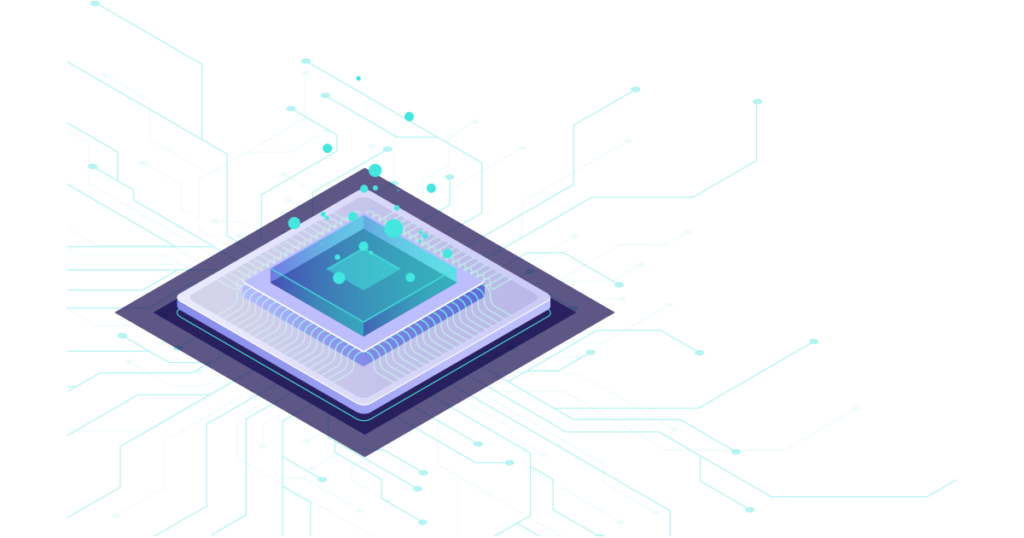 Discover the only European XDR Platform
Innovative system protection technology via automatic and intelligent active defense.
Optimized centralization and sophisticated correlations on events and security logs.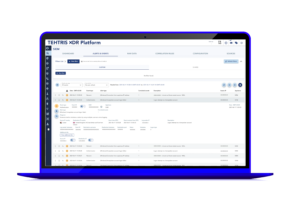 Ultra-complete low-level system protection with antivirus, anti-phishing, anti-exploit and firewall.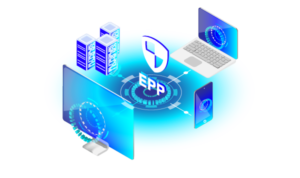 Honeypots simulating fake machines and services to lure intruders.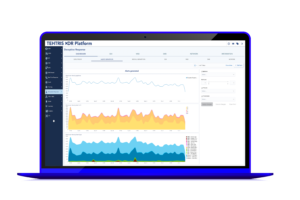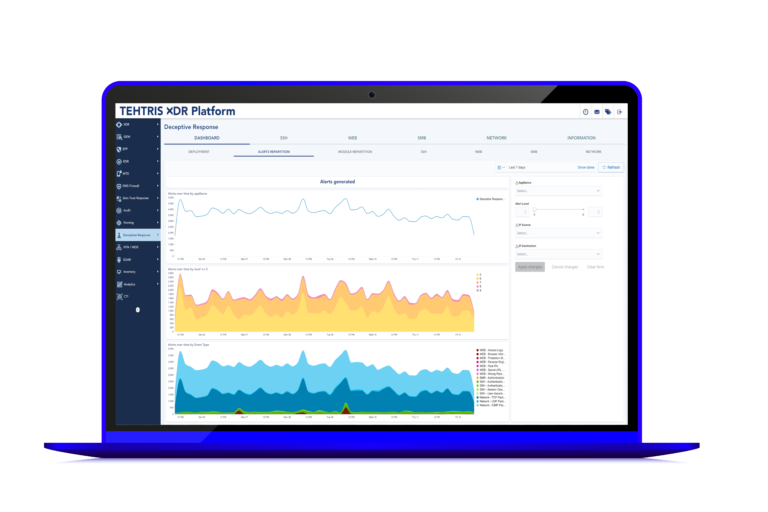 Network probe analyzing flows in real time with signatures, vulnerability audits and forensics.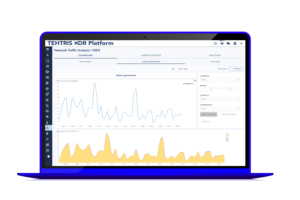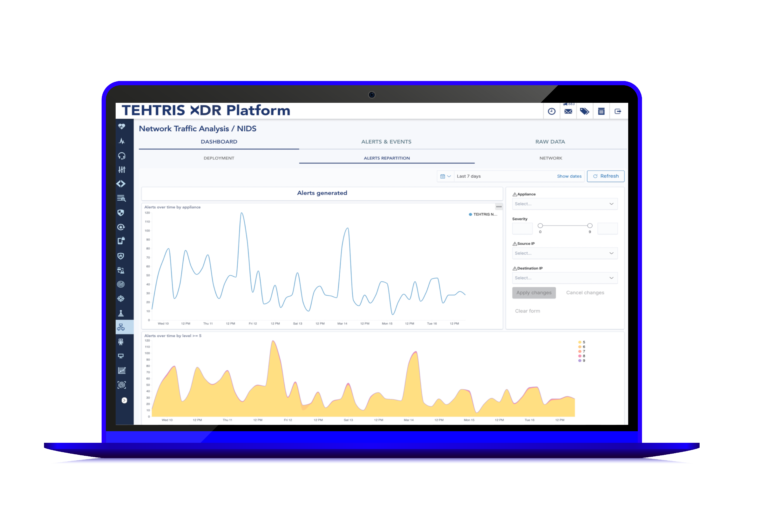 Tactical agent for mobile infrastructures with security policies and threat scanner.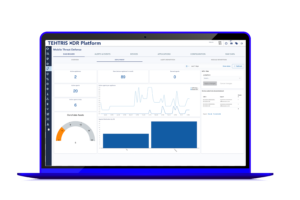 Security solution to eliminate and monitor any internal and external malware related to DNS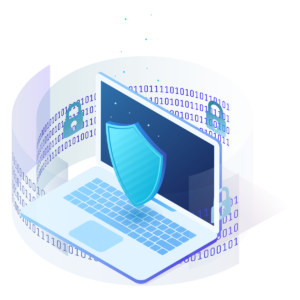 Zero-Trust" security solution with automatic incident response.

MITRE ATT&CK is a knowledge base with a model of the behavior of a cyber attacker, reflecting the different phases of the attack life cycle according to the targeted platforms: Windows, Mac, Linux, mobile, etc.
Day to deploy TEHTRIS XDR PLATFORM for an enterprise with over 100,000 stations and servers
Countries where our technologies are deployed for incident detection and response
Days to uncover some of the stealthy espionage-type APT threats that have been hidden for several years in a complex international park

Preserve the sovereignty and integrity of your data
Since 2010, TEHTRIS innovates and improves its cyber defense solution, through the different modules of the TEHTRIS XDR Platform.
Choose the European leader in cyber security!
News about TEHTRIS XDR Platform
* © 2020 The MITRE Corporation. This work is reproduced and distributed with the permission of The MITRE Corporation.
** Gartner and Market Guide are registered trademarks of Gartner, Inc. and/or its affiliates in the U.S. and internationally and is used herein with permission. All rights reserved.
Gartner Market Guide for Extended Detection and Response, Craig Lawson, Peter Firstbrook, Paul Webber, 8 November 2021
TEHTRIS recognized as a Representative Vendor in the 2021 Market Guide for Extended Detection and Response.
Craig Lawson, Peter Firstbrook, Paul Webber, 8 November 2021
Gartner Innovation Insight for Unified Endpoint Security, Rob Smith, Dionisio Zumerle, 12th November 2020,
Gartner Market Guide for Mobile Threat Defense, Dionisio Zumerle, Rob Smith, 29th March 2021,
Gartner Peer Insights reviews constitute the subjective opinions of individual end users based on their own experiences and do not represent the views of Gartner or its affiliates.