Vereinen Sie Ihre Einzellösungen zu einer hyperautomatisierten Cybersicherheitsplattform
TEHTRIS wird im Market Guide 2021 für XDR (Extended Detection and Response) als repräsentativer Hersteller aufgenommen.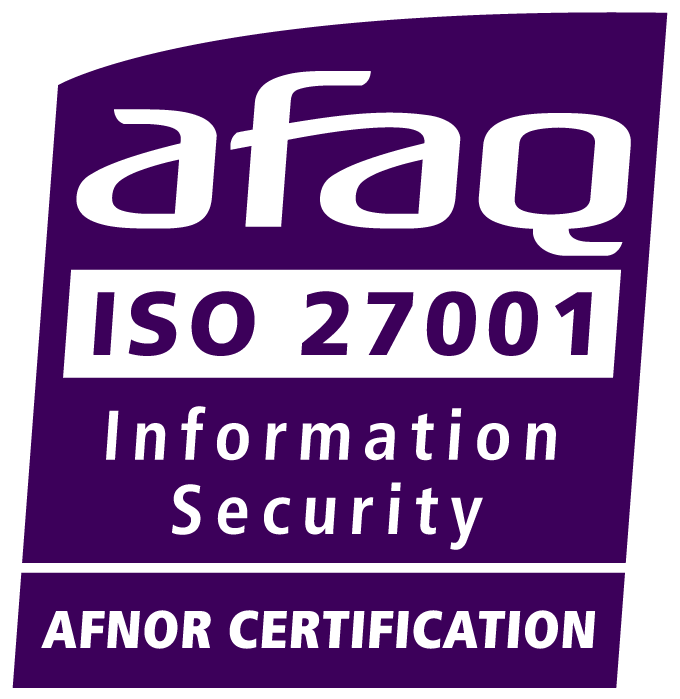 Warum TEHTRIS XDR wählen?
Eigene Playbooks erstellen und Cybersecurity-Lösungen vernetzen
Orchestrieren Sie all Ihre Lösungen über eine einzige Konsole, um eine schnellere Reaktionsfähigkeit zu erreichen. Automatisieren Sie all Ihre Prozesse, erstellen Sie Szenarien und gruppieren Sie Ihre Securitymeldungen in einzelne Vorfälle.
Bekannte und unbekannte Bedrohungen erkennen
Die TEHTRIS XDR Platform erkennt alle Arten von Bedrohungen. Insbesondere auch die, die durch 3rd-Party-Lösungen lokalisiert wurden, um Security Breaches zu verhindern.
Behebung in real time
Hyperautomatisieren Ihre Reaktionen auf Angriffe mit der TEHTRIS XDR Platform, und koordinieren Sie all Ihre Cybersicherheits-Lösungen "with strong actions" (Gartner)*.
Eine einzige Konsole zur Orchestrierung all Ihrer Cybersecurity-Lösungen
Vereinheitlichen Sie Ihre Cybersicherheit, in dem Sie all Ihre Lösungen in einer einzigen Konsole zusammenführen. Mit der TEHTRIS XDR Platform können sie EDR, EPP, MTD, SIEM, Honeypots, NTA und unserer DNS Firewall auf derselben Konsole benutzen.
All Ihre Cybersecurity-Tools sind mit der Plattform gleichzeitig orchestrierbar (auch Ihre bereits vorhandenen Lösungen, wie Zscaler und Proofpoint). In & Out APIs sorgen für eine einfache Integration und Bereitstellung in ihrer IT-Infrastruktur. Mit der Hyperautomatisierung durch TEHTRIS SOAR und unseren anpassbaren Playbooks sichern Sie sich eine sofortige Reaktion auf Cyberangriffe.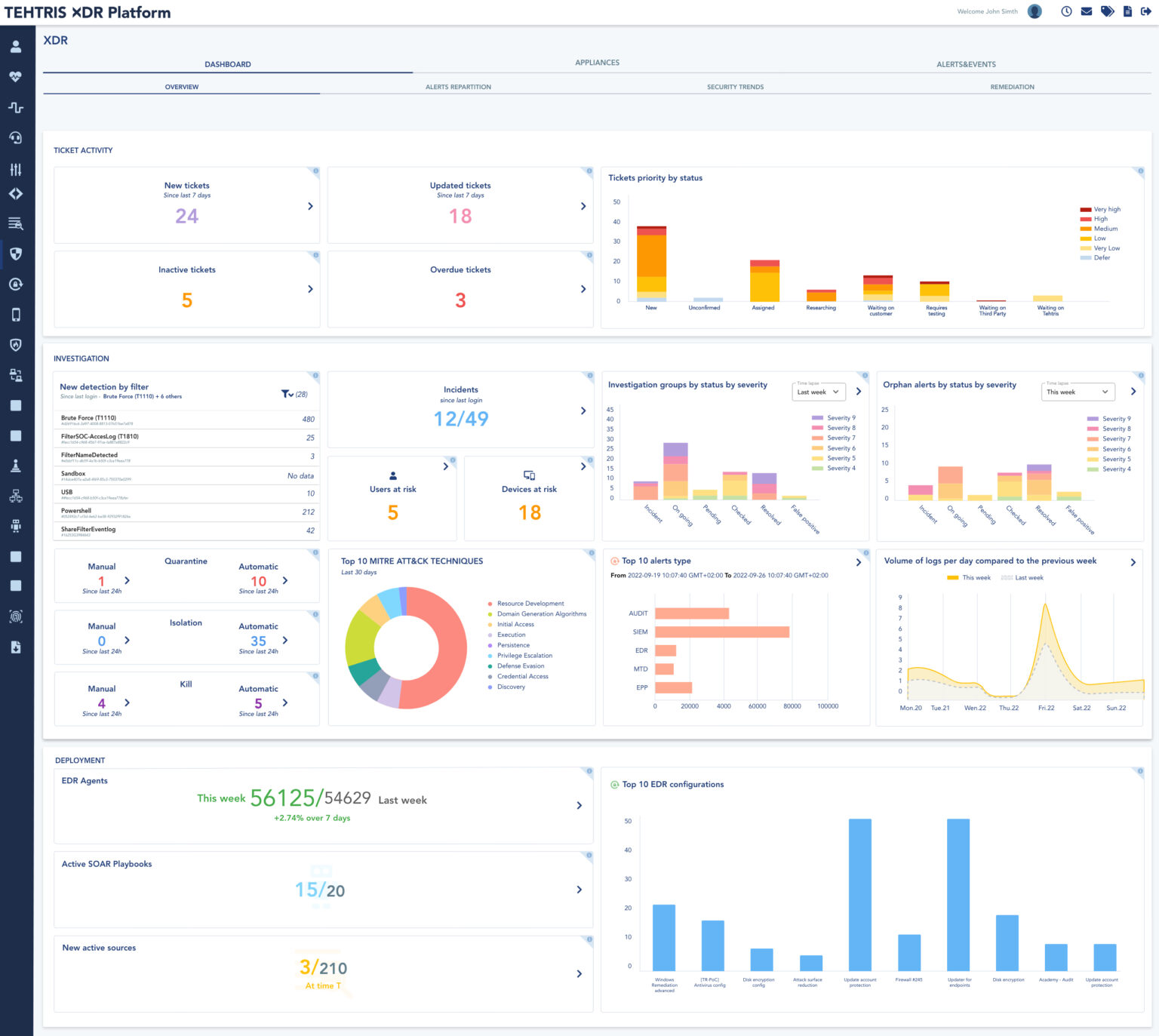 Inbegriffene TEHTRIS Augmented Technology
Die TEHTRIS XDR Platform vereinheitlicht nicht nur all Ihre Cyber-Lösungen, um die Erkennung und Reaktion auf Angriffe zu beschleunigen, sondern stellt Ihnen auch unsere gesamte analytische Intelligenz zur Verfügung.
Jedes Modul der TEHTRIS XDR Platform nutzt die TEHTRIS Augmented Technology, um die Erkennung, Untersuchung und Behebung von Angriffen zu beschleunigen:
TEHTRIS CTI
(Cyber Threat Intelligence):
Analytics, Sandboxing und Hunting-Tools, die kontinuierlich aktualisiert werden.
Orchestriert all Ihre Cyber-Lösungen (einschließlich Partnerlösungen der TEHTRIS XDR Platform) und gibt Ihnen die Möglichkeit, eigene Playbooks zu erstellen, um Ihre Prozesse zu hyperautomatisieren.
Unsere künstliche Intelligenz CYBERIA:
Unterstützt alle Module der XDR Plattform bei der Erkennung und Behebung von Angriffen mit neuronalen Netzen (Deep Learning).
Verhaltensanalyse-Tool, das abweichendes Verhalten automatisch erkennt. Unser UEBA ist in TEHTRIS SIEM integriert und funktioniert mit Machine Learning.
Priorisiert EDR-Securitymeldungen, erkennt Anomalien und gruppiert Ereignisse automatisch, um die Arbeit Ihrer Analysten zu erleichtern.
Verstärkte Zusammenarbeit Ihrer Teams
Der erfolgreiche Schutz ihrer Infrastruktur liegt bei der Reaktionsfähigkeit Ihrer Teams. Eine hohe Reaktionsfähigkeit hängt von einem eng zusammengeschlossenen Team ab, das die technischen Mittel hat, schnell und effektiv zusammenzuarbeiten.
Die TEHTRIS XDR Platform bietet mehrere Funktionen, um Ihre Teams zu unterstützen.
Hyperautomatisierung der Erkennung und Behebung von Angriffen
Kontextualisierung von Vorfällen auf der Plattform
Sofortige Securitymeldungen, an Ihre Analysten bei einem Angriff
Erstellung von Analysegruppen innerhalb der XDR Plattform
Erweiterte Filter- und Incident Management Funktionen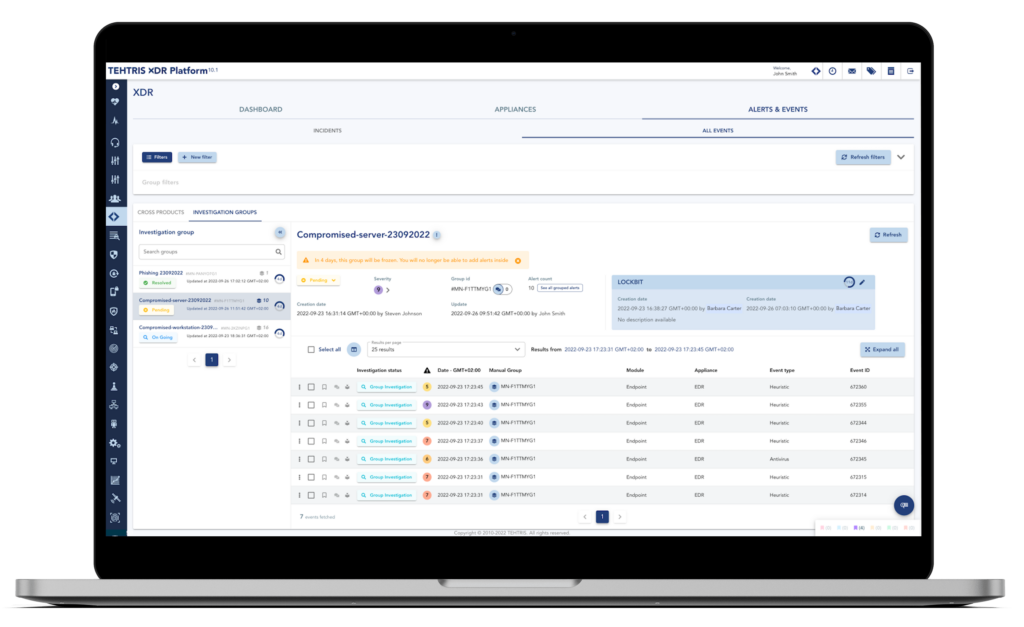 Mehr Sicherheit durch eine europäische Lösung
Immer mehr Kunden warnen uns: Andere Cybersecurity-Lösungen stehlen die Daten ihrer IT-Infrastruktur und speichern sie in ihrer Cloud. Die TEHTRIS XDR Platform ist in Europa entwickelt worden und gehostet. Sie wurde so konzipiert, dass wir keinen Zugriff auf Ihre Dateien haben, um Ihr Unternehmen vor Industriespionage zu schützen. Die Frage, wo Daten gehostet werden sollen, ist für Führungskräfte im heutigen Cyber- und geopolitischen Umfeld zu einer strategischen Entscheidung geworden.

Die Datenbank MITRE ATT&CK modelliert die verschiedenen Phasen eines Cyberangriffs und das Verhalten des Angreifers je nach Zielplattform: Windows, Mac, Linux, Mobilgeräte usw.
Tag, um die TEHTRIS XDR Platform in einem Unternehmen mit mehr als 100.000 Stationen und Servern einzusetzen.
Länder, in denen unsere Technologien zur Erkennung und Reaktion auf Vorfälle eingesetzt werden.
Tage, um Bedrohungen zu entdecken, die seit mehreren Jahren in einer komplexen internationalen IT-Infrastruktur versteckt waren. TEHTRIS entwickelt seine Cybersicherheitslösung seit 2010 mit den verschiedenen Modulen der TEHTRIS XDR Platform.
Entscheiden Sie sich für den europäischen Marktführer im Bereich Cybersicherheit!
* © 2020 The MITRE Corporation. This work is reproduced and distributed with the permission of The MITRE Corporation.
** Gartner and Market Guide are registered trademarks of Gartner, Inc. and/or its affiliates in the U.S. and internationally and is used herein with permission. All rights reserved.
Gartner Market Guide for Extended Detection and Response, Craig Lawson, Peter Firstbrook, Paul Webber, 8 November 2021
TEHTRIS recognized as a Representative Vendor in the 2021 Market Guide for Extended Detection and Response.
Craig Lawson, Peter Firstbrook, Paul Webber, 8 November 2021
Gartner Innovation Insight for Unified Endpoint Security, Rob Smith, Dionisio Zumerle, 12th November 2020,
Gartner Market Guide for Mobile Threat Defense, Dionisio Zumerle, Rob Smith, 29th March 2021,
Gartner Peer Insights reviews constitute the subjective opinions of individual end users based on their own experiences and do not represent the views of Gartner or its affiliates.