TEHTRIS XDR Platform

eXtended Detection & Response
Die XDR-Infrastruktur fasst mehrere Sicherheitslösungen zu einer einheitlichen Plattform zusammen, die Sicherheitsvorfälle erkennt und darauf reagiert.
TEHTRIS als repräsentativer Anbieter im Market Guide 2021 für Extended Detection and Response* anerkannt
Verbesserte Erkennung und Reaktion
Die TEHTRIS XDR Platform erfüllt mehrere wichtige Anforderungen. Sie nutzt ihr Netzwerk von Sensoren, wie z. B. Endpoint Detection and Response-Komponenten, um den Schutz, die Erkennung und die Angriffsreaktionsfähigkeit des Netzwerks, in dem sie positioniert ist, zu verbessern. Seien Sie auf das Unerwartete vorbereitet.
Die zentral konfigurierbare Lösung bietet ein intuitives System, mit dem Sie Ihre eigenen Entscheidungsbäume für das Vorgehen im Falle eines Angriffs erstellen können.
Eine zentrale, ganzheitliche Ansicht in der einheitlichen Konsole der Plattform ermöglicht es Cybersecurity-Analysten, verschiedene Quellen zu kombinieren, ohne jemals einen blinden Fleck zu erleben.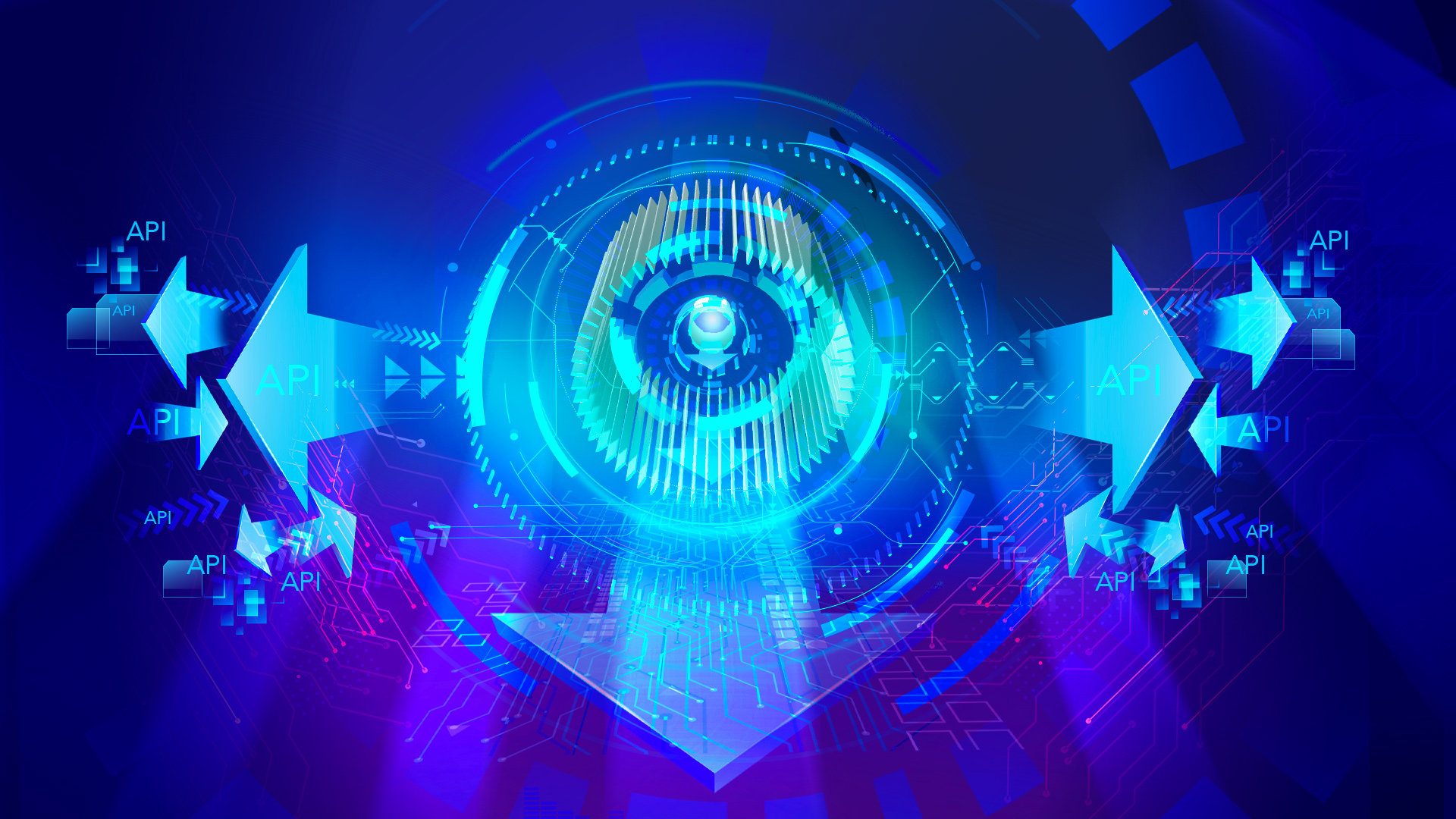 Konsolidieren Sie alle Ihre Sicherheitstools in einer offenen Plattform
Die Vereinheitlichung der Komponenten der TEHTRIS XDR Platform erfolgt auch durch zahlreiche TEHTRIS-Lösungen: EDR, EPP, MTD, SIEM, Honeypots, NTA, DNS Firewall, Zero Trust Response, etc. Ein dynamischer Austausch zwischen den Komponenten ist dank der Beziehungen zwischen den Produkten möglich, mit Automatisierungen durch integriertes SOAR und Anfragen in Verbindung mit TEHTRIS CTI (Cyber Threat Intelligence).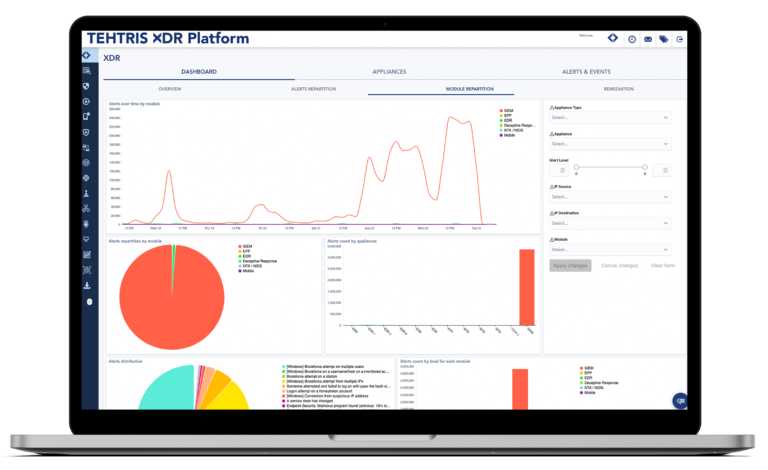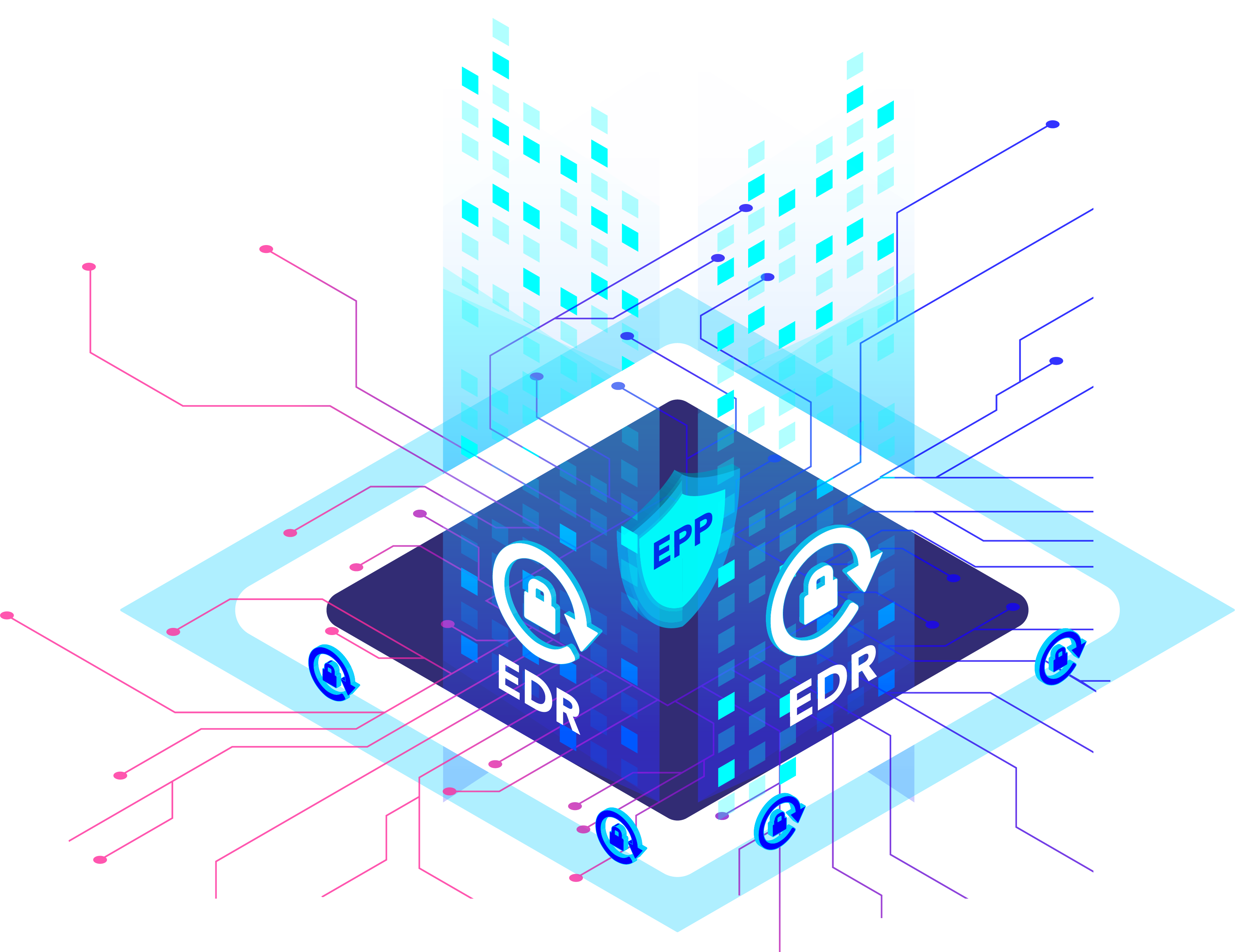 Zehnfache Sichtbarkeit, intelligente Untersuchungen
Die TEHTRIS XDR Platform ermöglicht es Ihnen, alle Ihre Sicherheitstools über ein einziges Dashboard zu sehen.
Sie kontrollieren alle Vektoren, die Angreifer aktivieren können. Unsere künstliche Intelligenz CYBERIA konsolidiert Warnungen, um Fehlalarme zu vermeiden und Analysten zu unterstützen.
Open XDR Platform: Schnittstelle für Ihre Mehrmarkenprodukte
Die TEHTRIS XDR Platform kann die Lösungen anderer Anbieter aufnehmen.
Sie können SIEMs, Firewalls, EDRs, IDSs aus der ganzen Welt und viele andere Sensoren in die Plattform integrieren.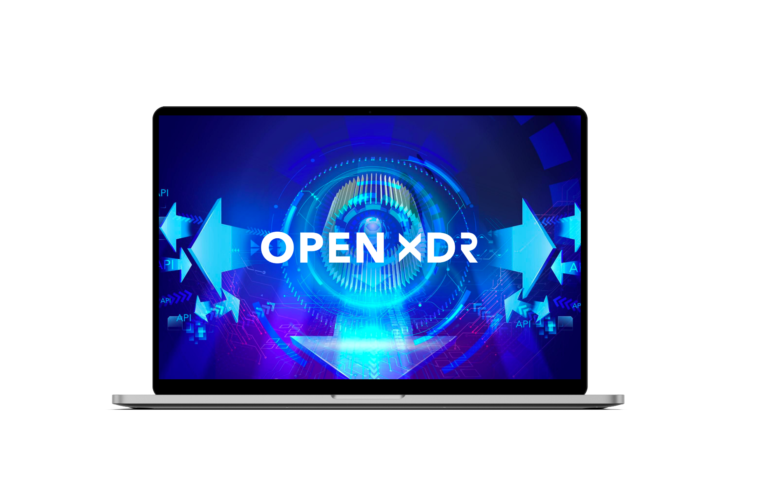 Warum die TEHTRIS XDR Platform?
EINFACHHEIT
Die TEHTRIS XDR Platform ist modular aufgebaut und kann in weniger als einer Stunde installiert werden, um Ihre Systeme, Netzwerke und Cloud-Workloads zu schützen.
VERFOLGBARKEIT
Wenn Ihr Unternehmen kein SIEM oder nur ein auf die Protokollierung beschränktes System hat, bietet der Wechsel zu TEHTRIS XDR nicht nur die Möglichkeit, Angriffe zu erkennen und darauf zu reagieren, sondern auch eine echte Rückverfolgbarkeit mit TEHTRIS SIEM.
KÜNSTLICHE INTELLIGENZ
Im Machine Learning-Modus ermöglicht die Überwachung der TEHTRIS XDR-Komponenten durch unsere CYBERIA AI-Engine die Erkennung von abnormalem Verhalten, was die Jagdarbeit in großen heterogenen und verteilten Infrastrukturen vereinfacht.
HYPER-AUTOMATISIERUNG
TEHTRIS XDR bietet sowohl Erkennung als auch Reaktion, indem es zwischen legitimen Aktionen und Bedrohungen unterscheidet, dank einer technischen Vereinheitlichung durch eine integrierte SOAR. Es nutzt die erfassten Überwachungsinformationen, um auf einen Angriff zu reagieren, indem es beispielsweise eine Bedrohung neutralisiert oder Analysten nützliche Informationen zur Verfügung stellt.
COHERENCY
Im Jahr 2014 verfügte TEHTRIS bereits über einen EDR-Agenten, SIEM, NTA und Honeypots, die bei TEHTRIS intern programmiert und in eine technische Plattform namens eGambit integriert wurden, die die Grundlage der TEHTRIS XDR Platform bildete.
Einzige europäisches XDR
Die Plattform wird in Frankreich auf der Grundlage eines völlig neuen Codes entwickelt. Wählen Sie eine Lösung ohne Hintertüren, deren "Security & Ethics by design" die Vertraulichkeit der analysierten Daten garantiert.
Eingebettet in TEHTRIS SOAR
(Sicherheits-Orchestrierung und Reaktion)
Die Orchestrierung von Ereignissen und die effektive und schnelle Reaktion auf Bedrohungen ist eine grundlegende Herausforderung im Bereich der Cybersicherheit. Eine der besten Möglichkeiten, dies zu erreichen, ist eine leistungsstarke Automatisierung und künstliche Intelligenz. Genau das bietet TEHTRIS mit seinem in die TEHTRIS XDR Platform integrierten SOAR.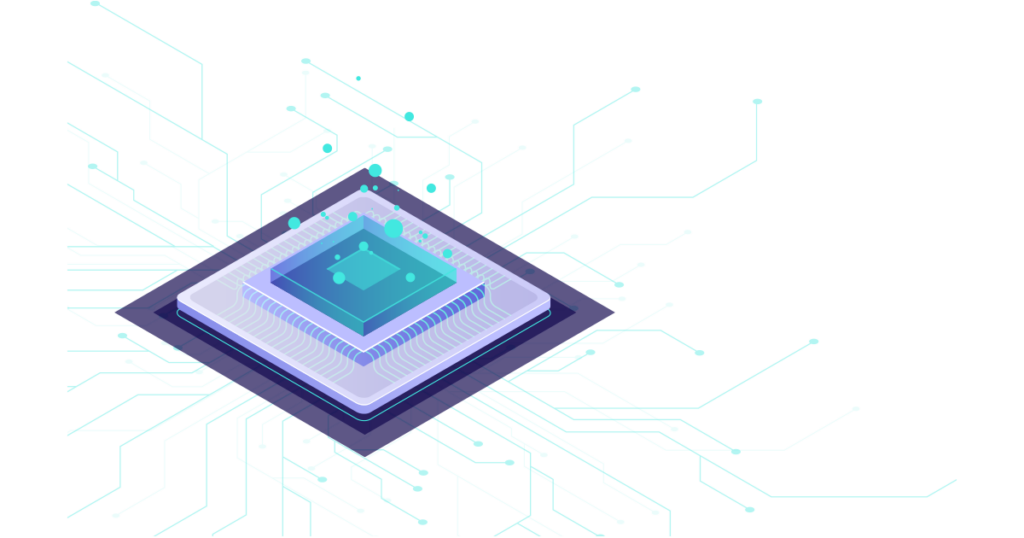 tag der Bereitstellung der TEHTRIS XDR PLATFORM für ein Unternehmen mit über 100.000 Stationen und Servern
länder, in denen unsere Technologien zur Erkennung von und Reaktion auf Vorfälle eingesetzt werden
tage, um einige der heimlichen, spionageartigen APT-Bedrohungen aufzudecken, die seit mehreren Jahren in einem komplexen internationalen Park versteckt sind Bewahren Sie die Souveränität und Integrität Ihrer Daten
Seit 2010 innoviert und verbessert TEHTRIS seine Cyber Defense Lösung durch die verschiedenen Module der TEHTRIS XDR Platform.
Wählen Sie den europäischen Marktführer für Cybersicherheit!
* © 2020 The MITRE Corporation. This work is reproduced and distributed with the permission of The MITRE Corporation.
** Gartner and Market Guide are registered trademarks of Gartner, Inc. and/or its affiliates in the U.S. and internationally and is used herein with permission. All rights reserved.
Gartner Market Guide for Extended Detection and Response, Craig Lawson, Peter Firstbrook, Paul Webber, 8 November 2021
TEHTRIS recognized as a Representative Vendor in the 2021 Market Guide for Extended Detection and Response.
Craig Lawson, Peter Firstbrook, Paul Webber, 8 November 2021
Gartner Innovation Insight for Unified Endpoint Security, Rob Smith, Dionisio Zumerle, 12th November 2020,
Gartner Market Guide for Mobile Threat Defense, Dionisio Zumerle, Rob Smith, 29th March 2021,
Gartner Peer Insights reviews constitute the subjective opinions of individual end users based on their own experiences and do not represent the views of Gartner or its affiliates.