Cybercrime is an ever-increasing risk faced by businesses of all sizes and industries. To protect themselves from the many cyberattacks they face, organizations must stay one step ahead of cybercriminals by protecting their assets from ever more sophisticated methods.
The techniques and attack vectors used by experienced cyber attackers continue to advance. While security teams must seek to cover every threat, attackers only need to break into networks once… With this in mind, organizations must constantly update their defenses to reflect the rapidly changing risks, and changing the overall approach seems critical.
In the last few years, a lot of research has been done to improve the use of defense technologies within organizations in order to improve their cyber security. This work has resulted in a comprehensive solution: XDR (eXtension Detection & Response) platforms.
Faster, more complete and fully automated, they have become the must-have to be integrated in your IT infrastructure to be serene in front of all the new threats, and those already known.
Granularity of information
Holistic approach
Faster response
Effective response
Better containment of threats
What does it mean ?
Easy to install and compatible with your computer equipment
Awards obtained by the TEHTRIS XDR Platform
How does it differ from other cybersecurity tools ?
Traditionally, organizations (or perhaps even you) have relied on a SIEM (Security Information Management System), EPP (Endpoint Protection Platform) or more commonly known as antivirus, EDR (Endpoint Detection and Response) and a few other tools to effectively respond to security incidents. As attack tactics become more sophisticated, the time required to identify and respond to incidents increases with these tools.
An XDR platform replaces siloed security: by providing a holistic and unified view of cybersecurity alerts, it helps organizations adapt to evolving challenges. Its unprecedented detection capabilities are far more extensive than dedicated tools and will soon make it indispensable to security teams (SOC teams).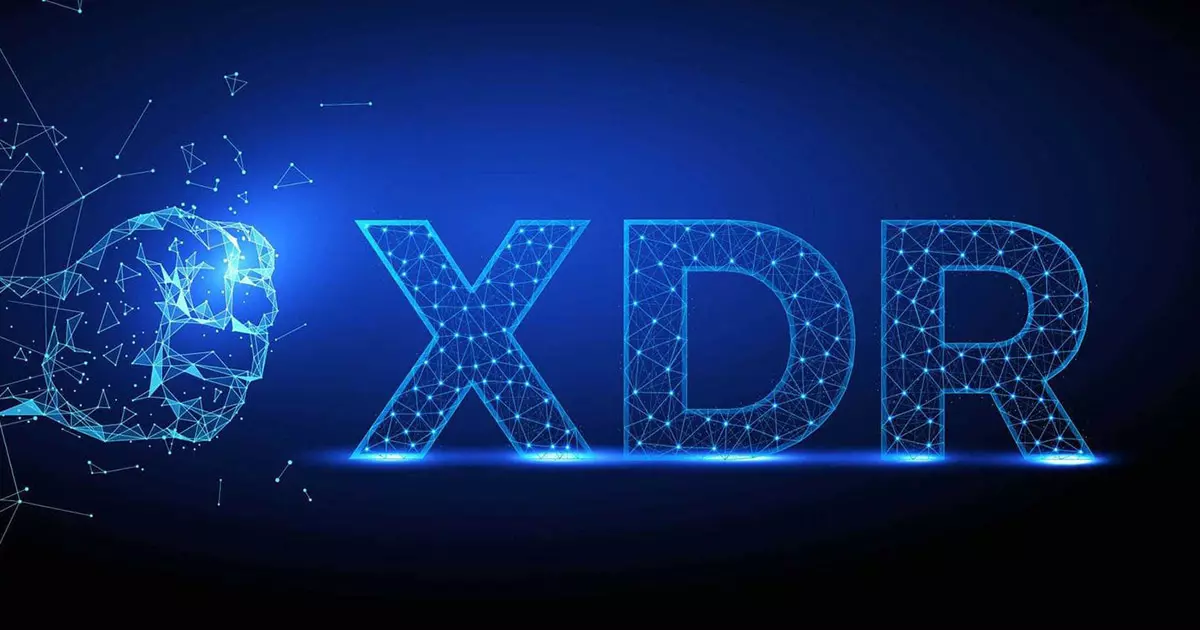 What is an XDR solution, eXtension Detection & Response?
In eXtension Detection & Response, the X has many meanings. At TEHTRIS, as in mathematics, the X, the unknown, echoes the slogan "Facing the unpredictable". Our ambition is to provide a detection and response service that comprehensively addresses known and unknown threats. Secondly, the X is also an X to say that it works everywhere, for all attack vectors and surfaces, compared to the E for Endpoint in EDR technology for example. Finally, the X means that our method is an "eXtended" method, so that our customers and partners benefit from an enhanced detection and response service. Much more developed than a simple EDR solution.
"An XDR Solution is much more developed than a simple EDR solution."
What is the purpose of XDR technology?
Quite simply, it helps you find stealth threats faster with machine learning algorithms and round-the-clock analytics across the cloud, networks and endpoints. So where an EDR solution covers only a portion of the attack surface, an XDR platform can simplify the investigation and response to cybersecurity threats wherever its sensors will be. As a result, XDR radically improves your cybersecurity posture and helps you get a better return on your security investments.
Instead of relying on traditional endpoint protection that places security in multiple buckets – each dedicated to an endpoint or solution – XDR gives any organization a holistic view of its network. You'll be able to spot problems and gaps more effectively.
Should you choose an XDR platform for your business?
It all depends on the size of your data and the level of protection it requires. Nevertheless, XDR can revolutionize your approach to cybersecurity by addressing a key problem prevalent in the traditional EDR landscape. Once a hacker penetrates an enterprise network, he or she can move laterally and determine all other weak points in the system. In today's strict regulatory environment, companies face significant fines and reputational damage when attacks are exposed. Another concern is that many attacks go undiscovered, allowing cybercriminals to obtain open links in affected companies' networks that will not be fixed right away.
XDR provides full coverage of the various vectors that an enterprise's infrastructure offers to an attacker. The eXtension Detection & Response platform connects these elements to other data points.
The advantages of using an XDR solution in your company
Here are some benefits of working with XDR solutions for your cyber resistance:
1 - Granularity of information
XDR technology helps you examine user activity at the endpoint, the applications they use, their access rights and the files they download. This information, coupled with deep visibility into network and application communications in the cloud and on-premises, dramatically speeds detection and blocking of an attack.
Connecting email, cloud, server and network security under one solution provides a broader perspective and better context to more effectively identify, reduce and contain threats. Therefore, in the era of evolving cyber threats, XDR presents itself as an ideal solution to protect an organization from all possibilities.
Powerful artificial intelligence combined with security analytics helps prioritize high-impact threats. Because security teams have to deal with too many alerts that lack information and context, XDR dramatically increases the operational productivity of security teams. They can visualize the security state of the enterprise through a consolidated XDR platform, instead of relying on several disparate products.
Responding effectively to threats is as important as reacting quickly. XDR platforms provide security teams with a wealth of data and analytics to trace the origin of attacks and reconstruct the mechanism. This allows security teams to better respond by blocking the source of the attack rather than the endpoint where it began.
5 -Better containment of threats
XDR solutions allow you to see beyond the endpoint. This means you can detect and respond to threats across layers and get better context to better understand the situation. Activity that doesn't seem suspicious on its own can suddenly become high priority, allowing you to contain the impact more quickly.
Now that we've clarified what XDR is and all that it brings, it's very important that you choose the right XDR platform for your business.
Why choose the TEHTRIS XDR Platform?
TEHTRIS XDR Platform customers benefit from our horizontal layer approach to cybersecurity. Our XDR offering is a horizontal layer on top of all our technologies such as EDR, SIEM, NTA, Mobile Security, EPP and Deceptive Response. Indeed, the vision we wanted to achieve with our XDR was that we could address important cybersecurity needs by integrating automation, CTI, artificial intelligence, hunting, ticketing (ISO 27035), compliance/auditing and a unified view of all security with a comprehensive database of security alerts.
First of all, our XDR solution comes with a built-in SOAR. This means that you have many great default features to automate your cybersecurity and make it more human error free. Nevertheless, we believe in the human-machine combination, as some aspects of cybersecurity require humans on your team. Therefore, our XDR platform uses human capabilities as well as artificial intelligence that increases the impact and speed of overall cybersecurity – making human effort more efficient and relevant.
In summary, it would be a shame to view XDR technology as a substitute for EDR technology. It should be appreciated as a technology that expands the scope of EDR, enhancing your ability to deliver true cybersecurity within your organization.
Easy to install and compatible with your computer equipment
Now that you are convinced of the relevance of integrating an XDR platform into your IT infrastructure. One question should come to your mind: "Can I easily install this solution? ". The answer is yes, since its creation, we have always wanted TEHTRIS XDR Platform to be easy, modular and quickly integrated.
For example, if you only want the EDR brick to prevent espionage and sabotage attacks, we can deploy our XDR with a single vertical dimension with TEHTRIS EDR agents, to quickly protect your entire fleet.
What if next year you change your antivirus? You can add ours and then you will have all the records collected in the XDR Platform.
Worried about attacks on your email in Office 365, think hackers might be breaking into your VPNs, or wonder if malicious employees are already active? We can dynamically add SIEM and track what's going on.
And so on. Modularity. Simplicity. Overall efficiency. In less than a day we can modulate your offer on your machines to save it despite a lack of anticipation or an unforeseen and unpredictable attack.
Awards obtained by the TEHTRIS XDR Platform
Over the past few years, we have really wanted to develop the best solutions to provide the necessary weapons to companies so that they can serenely and correctly protect themselves. This work has been rewarded on several occasions, notably for our EDR and XDR solutions.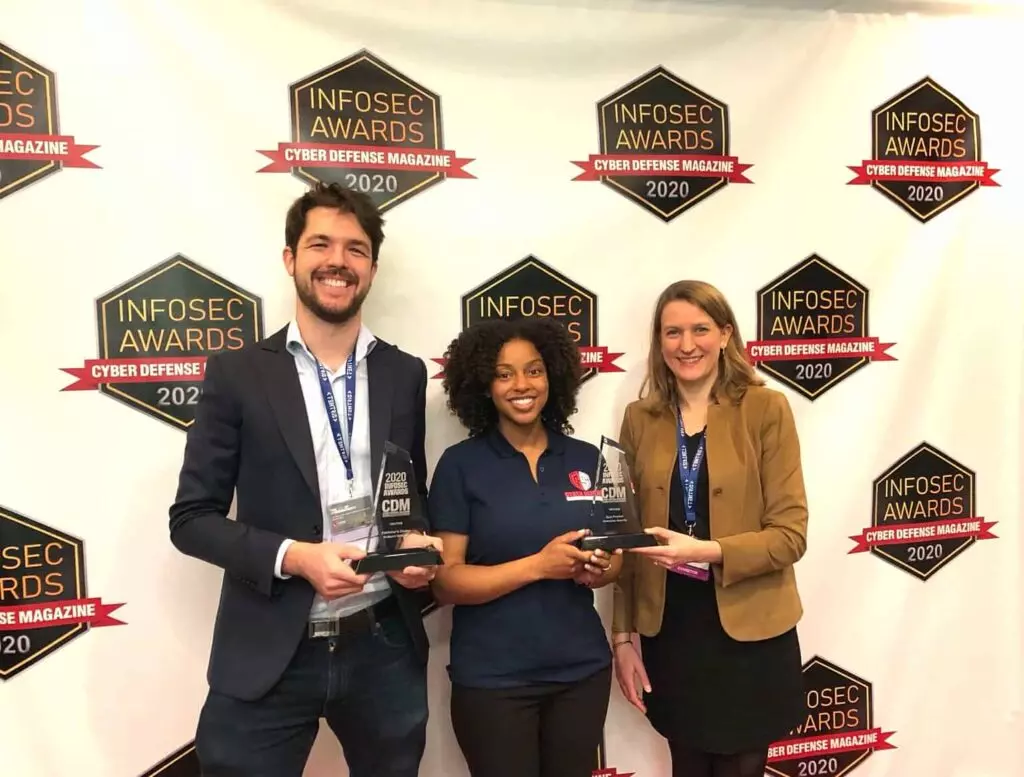 RSA 2020
Award Endpoint Security
RSA 2020
Best Products Award