Why TEHTRIS DNS Firewall?​
Detects attacks using DNS resolutions
Protect your users and your company with TEHTRIS DNS Firewall. Phishing, malware, command & control, crypto miner, DGA… Our DNS Firewall detects all types of attacks exploiting DNS resolutions.
Blocks all responses to malicious DNS requests
Potentially malicious DNS resolutions are automatically blocked before they can infiltrate your network. By preventing access to dangerous sites all devices in your park are protected.
Part of the TEHTRIS XDR Platform
As a module of our XDR Platform, TEHTRIS DNS Firewall gives you access to all its augmented technology. Our SOAR, our knowledge base, and our artificial intelligence CYERIA help to protect your DNS traffic.
The optimal security for your DNS traffic
TEHTRIS DNS Firewall monitors your DNS traffic continuously to detect and block threats in real time. Suitable for all types of infrastructure, our DNS Firewall protects even your sensitive environments (IoT & BYOD compliance).
Phishing, malware, command & control, crypto miner… TEHTRIS DNS Firewall protects your users and your company from the most severe attacks. Thanks to its Machine Learning, and in particular its Deep Learning, TEHTRIS DNS Firewall systematically analyzes all DNS requests. Our artificial intelligence CYBERIA enables the detection of domains coming from domain name generation algorithms (DGA). To ensure full security of your DNS traffic, TEHTRIS DNS Firewall also blocks access to newly created domains that are a source of threats that are generally forgotten.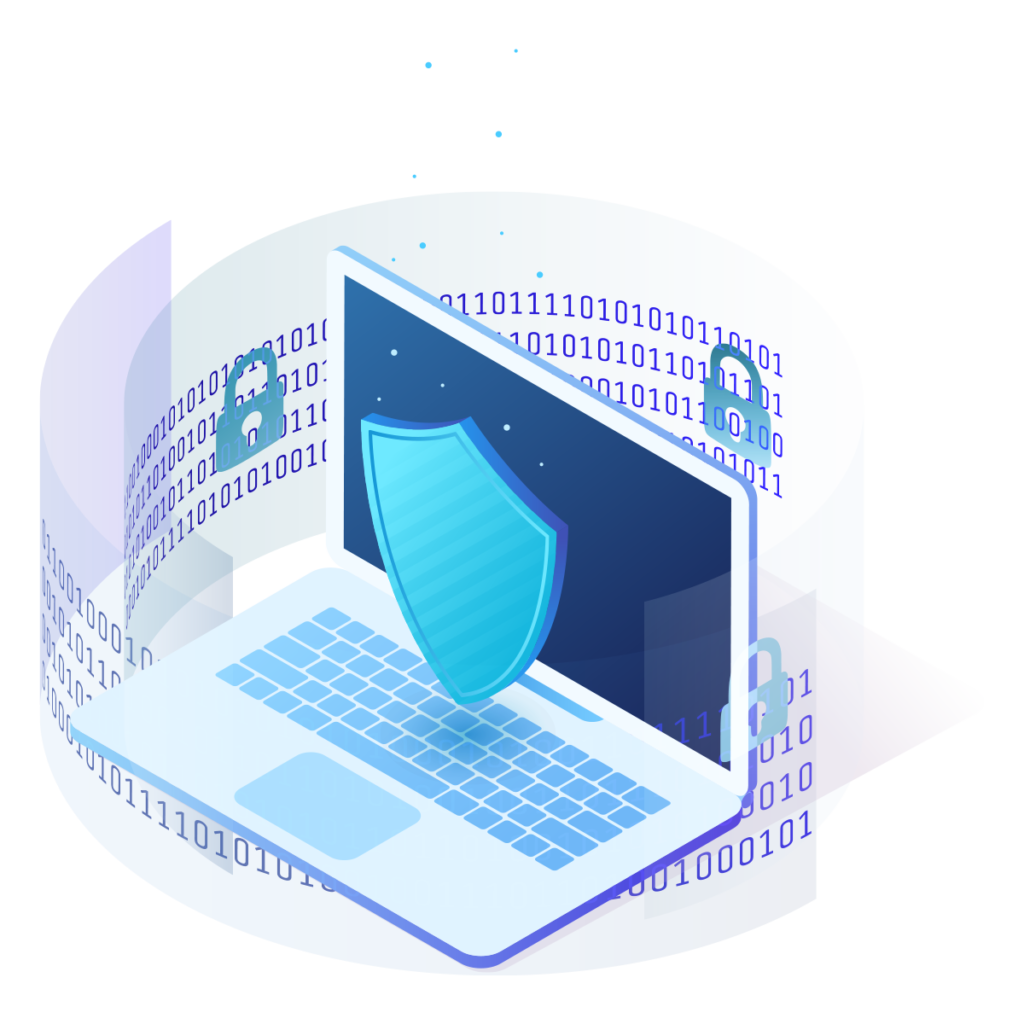 Tailored to your security policy
To protect your users, TEHTRIS DNS Firewall filters malicious traffic in real-time by supervising DNS queries & controlling the resolution of all domain names.
The filtering of DNS requests is complemented by the analyses of our AI TEHTRIS CYBERIA and our threat knowledge base. When CYBERIA detects an anomaly or when a match with our database is established, the DNS request is automatically blocked, or an alert raised.
Adapt the response to potentially harmful DNS requests to the needs of your company: the control lists of TEHTRIS DNS Firewall are configurable to ensure monitoring in accordance with your security policy.
Access to the TEHTRIS XDR Platform and to our augmented technology
The information about every anomaly detected and blocked by TEHTRIS DNS Firewall is automatically sent to the TEHTRIS XDR Platform. Forensic investigations can be enhanced and refined thanks to the Raw Data section which gathers all logs. Our XDR Platform gives you a global view of the security of your fleet, thanks to a single console.
As a module of the TEHTRIS XDR Platform, our DNS Firewall also gives you access to all the augmented TEHTRIS technology:
Create your own playbooks (in No Code Automation) with our SOAR to make your solutions interact (even partner solutions such as Zscaler, Proofpoint, etc.) and hyperautomate your cybersecurity.
Identify suspicious activities in real time, such as phishing attempts, using the threat knowledge base built into TEHTRIS DNS Firewall.
Detect known and unknown threats with the Deep Learning neural networks of our artificial intelligence CYBERIA.

MITRE ATT&CK is a knowledge base with a model of the behavior of a cyber attacker, reflecting the different phases of the attack life cycle according to the targeted platforms: Windows, Mac, Linux, mobile, etc.
day to deploy TEHTRIS DNS Firewall
for an update of the malicious url knowledge base
of threats available from the DNS Firewall console with TEHTRIS CTI

Preserve the sovereignty and integrity of your data
Since 2010, TEHTRIS innovates and improves its cyber defense solution, through the different modules of the TEHTRIS XDR Platform.
Choose the European leader in cyber security!
* © 2020 The MITRE Corporation. This work is reproduced and distributed with the permission of The MITRE Corporation.
** Gartner and Market Guide are registered trademarks of Gartner, Inc. and/or its affiliates in the U.S. and internationally and is used herein with permission. All rights reserved.
Gartner Market Guide for Extended Detection and Response, Craig Lawson, Peter Firstbrook, Paul Webber, 8 November 2021
TEHTRIS recognized as a Representative Vendor in the 2021 Market Guide for Extended Detection and Response.
Craig Lawson, Peter Firstbrook, Paul Webber, 8 November 2021
Gartner Innovation Insight for Unified Endpoint Security, Rob Smith, Dionisio Zumerle, 12th November 2020,
Gartner Market Guide for Mobile Threat Defense, Dionisio Zumerle, Rob Smith, 29th March 2021,
Gartner Peer Insights reviews constitute the subjective opinions of individual end users based on their own experiences and do not represent the views of Gartner or its affiliates.