TEHTRIS OPTIMUS

Endpoint Detection & Protection
TEHTRIS OPTIMUS combines EDR and NGAV (next generation antivirus) capabilities in a single agent to detect and neutralize known and unknown threats in real time with no human interaction required.
TEHTRIS recognized as a Representative Vendor in the 2021 Market Guide for Extended Detection and Response*
The optimal solution to proactively secure your endpoints
Efficiency
Combination of EDR and NGAV capabilities
Simplicity
Single agent and pre-configurations
Compatibility
With EPPs and antiviruses already in use
Interoperability
Numerous external APIs available

Visibility
Dedicated console provided
TEHTRIS OPTIMUS in a nutshell:
Our EDR has built its technical robustness up on its early development. It relies on the synergy of high technologies to prevent and eradicate the most sophisticated threats immediately using hyperautomation.
The efficiency of TEHTRIS NGAV
Our NGAV draws its efficiency from the built-in, constantly updated, threat knowledge base, to tackle an ever-growing number of viruses.
The simplicity of a turnkey solution
TEHTRIS OPTIMUS includes a single agent, can be deployed in a short period of time and offers an optimized user experience.
What you can do with TEHTRIS OPTIMUS:
Quarantine malicious programs (ransomware...)
Disable the use of ports (USB flash drive, smartphone...)
Isolate the affected workstation or server
Forbid or allow some practices on machines
Respond automatically to an incident
Benefits for your cybersecurity team:
Modular and granular approach
Time saving at every step
Extensive monitoring and control
Focused attention and actions
Better productivity and performance
Protect your computers and servers from end to end in real time, 24/7,
without even a last click.
Continuously control and monitor your endpoints, detect unprotected devices, refine your cybersecurity strategy using blacklists and whitelists, find all vulnerabilities via audits and patch quickly with the help of deep investigations (IOC hunting…).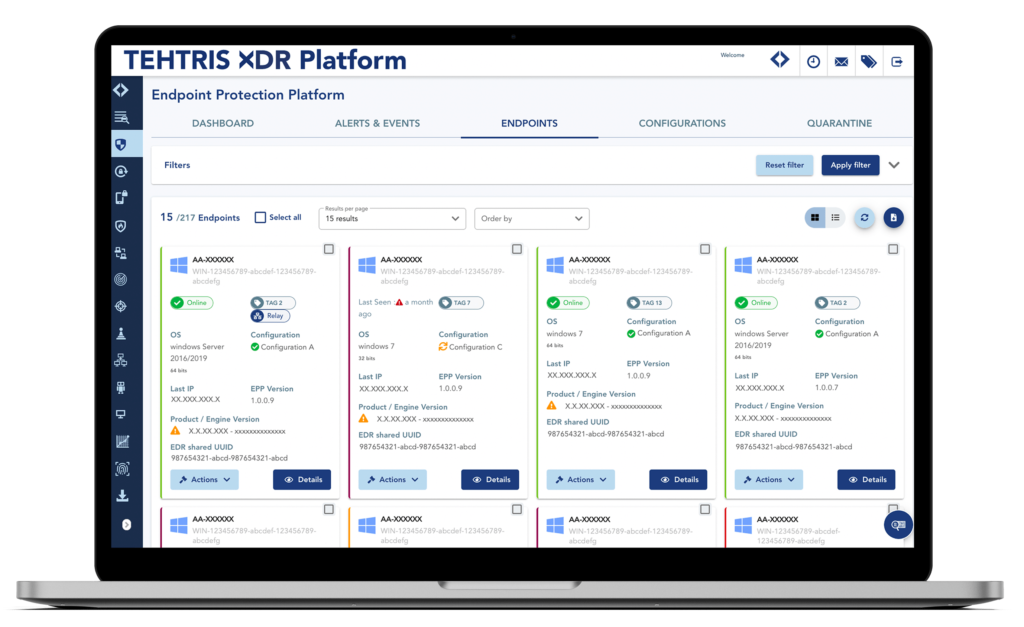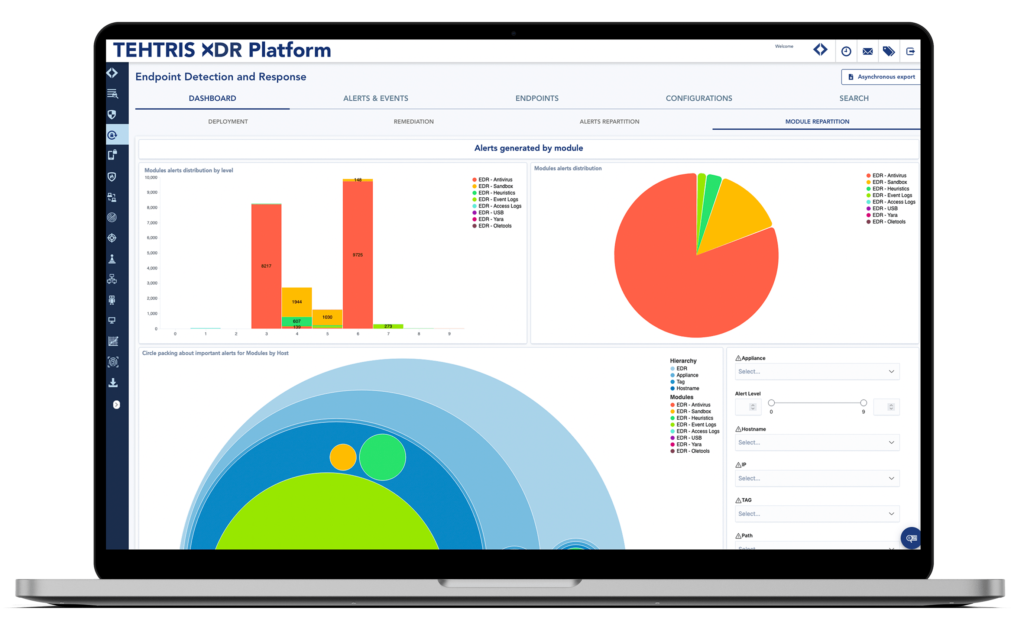 Upscale your cybersecurity with an integrated multi-layer protection (comprehensive and up-to-date knowledge base, AI, sandboxes, analysis engines…) for a defense in depth. With hyperautomated blocking and remediation, your endpoints are secured without any action on your part. Using the reporting features, you know where to look and where to focus your efforts.
Block and remediate with no manual step
Customize the autonomy of response
Respond in real time
Comprehensive capabilities
Analyze and stop threats automatically
Detect suspicious behavior
Unravel stealth attacks
Integrated techs & innovations
TEHTRIS Cyber Threat Intelligence
Cyberia AI (Machine Learning & Deep Learning)
Access to TEHTRIS XDR Platform
Our 100% online offer dedicated to VSEs and SMEs
TEHTRIS OPTIMUS is a 100% online detection and protection offer for computers and servers adapted to the needs of small and medium-sized businesses, with simplified and rapid deployment while guaranteeing high-performance security.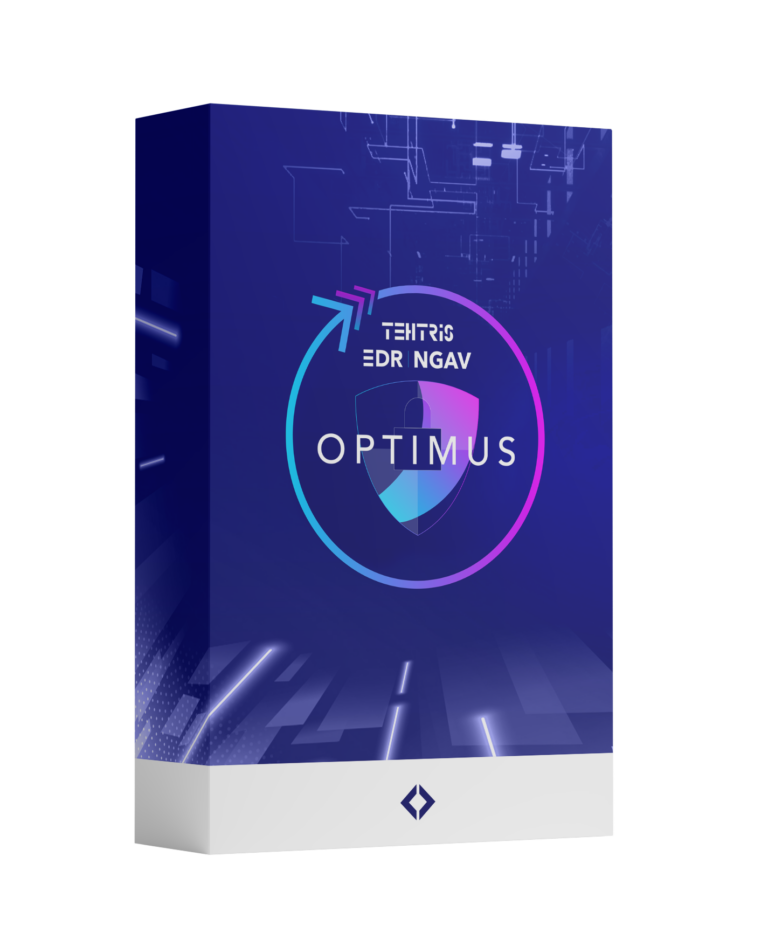 Protect all your endpoints, even mobile ones, with TEHTRIS UES
Adopt a unified security for all endpoints (computers, servers, smartphones, tablets…) with the TEHTRIS UES bundle, which combines EDR, EPP and MTD in a single console.

MITRE ATT&CK is a knowledge base with a model of the behavior of a cyber attacker, reflecting the different phases of the attack life cycle according to the targeted platforms: Windows, Mac, Linux, mobile, etc.

Protect the sovereignty and integrity of your data
TEHTRIS is a trusted third party that contributes to the digital sovereignty of the European Union. Our solutions are guaranteed with no backdoors. Thus, you are ensured to keep exclusive control of your data.
Choose the European leader in cybersecurity!
* © 2020 The MITRE Corporation. This work is reproduced and distributed with the permission of The MITRE Corporation.
** Gartner and Market Guide are registered trademarks of Gartner, Inc. and/or its affiliates in the U.S. and internationally and is used herein with permission. All rights reserved.
Gartner Market Guide for Extended Detection and Response, Craig Lawson, Peter Firstbrook, Paul Webber, 8 November 2021

Gartner Peer Insights reviews constitute the subjective opinions of individual end users based on their own experiences and do not represent the views of Gartner or its affiliates.