Bekannte und unbekannte Bedrohungen 24x7
in real time erkennen und neutralisieren.
TEHTRIS wird im Market Guide 2021 für XDR (Extended Detection and Response) als repräsentativer Hersteller aufgenommen.
Warum TEHTRIS EDR wählen?
Beherrschen Sie das Unbekannte
Ihr Antivirenprogramm schützt Sie nur vor bekannten Bedrohungen. TEHTRIS EDR erkennt und neutralisiert auch unbekannte oder versteckte Threats.
Erkennung und Neutralisierung 24x7
TEHTRIS EDR überwacht und schützt Ihre IT-Infrastruktur kontinuierlich. Die TEHTRIS-Technologie hyperautomatisiert die Analyse, Erkennung und Behebung von Angriffen in real time.
Erstellen Sie Ihre eigenen Playbooks
Gewinnen Sie bei Sicherheitsvorfällen mit TEHTRIS SOAR wertvolle Zeit (mit TEHTRIS EDR sofort benutzbar). Erstellen Sie Ihre eigenen Playbooks in No Code Automation, um Ihre Cybersecurity-Lösungen zu orchestrieren und automatisieren.
Ein umfassender Überblick über Ihre IT-Infrastruktur
Erkennen Sie sofort, woher ein Angriff kommt, dank einer ganzheitlichen Sicht auf Ihre IT-Umgebung. Überwachen Sie all Ihre Endpunkte 24×7 in einem einzigen Dashboard mit TEHTRIS EDR. Der umfassende Überblick über Ihre IT-Infrastruktur ermöglicht es Ihnen, die unbekanntesten Angriffe zu erkennen und zu neutralisieren. Sobald TEHTRIS EDR installiert ist, werden Bedrohungen erkannt, die bisher versteckt waren. Außerdem werden ungeschützte Endpunkte von unserer Shadow-IT-Funktion lokalisiert.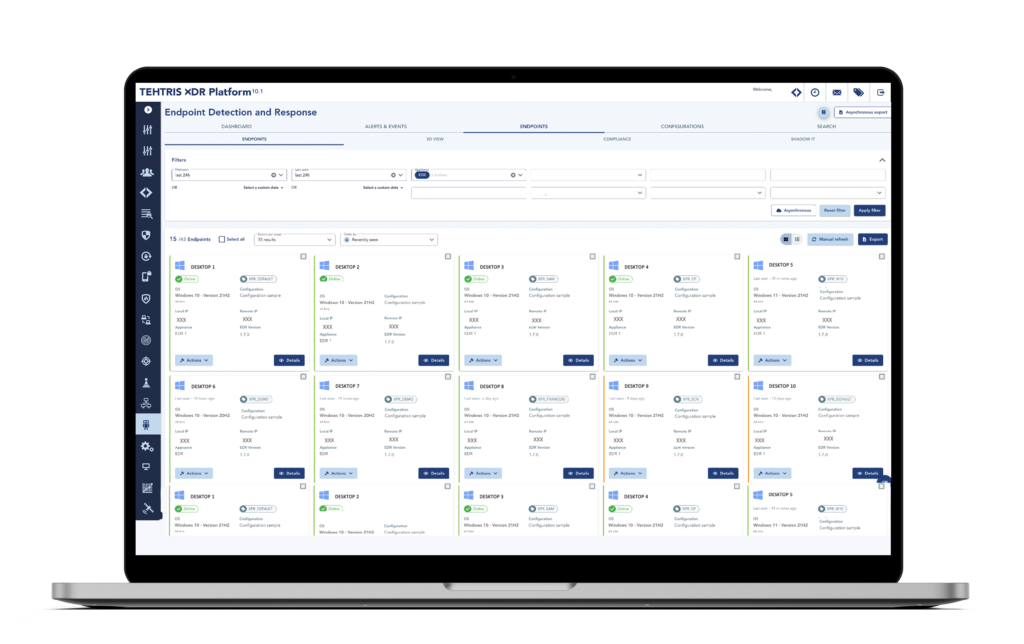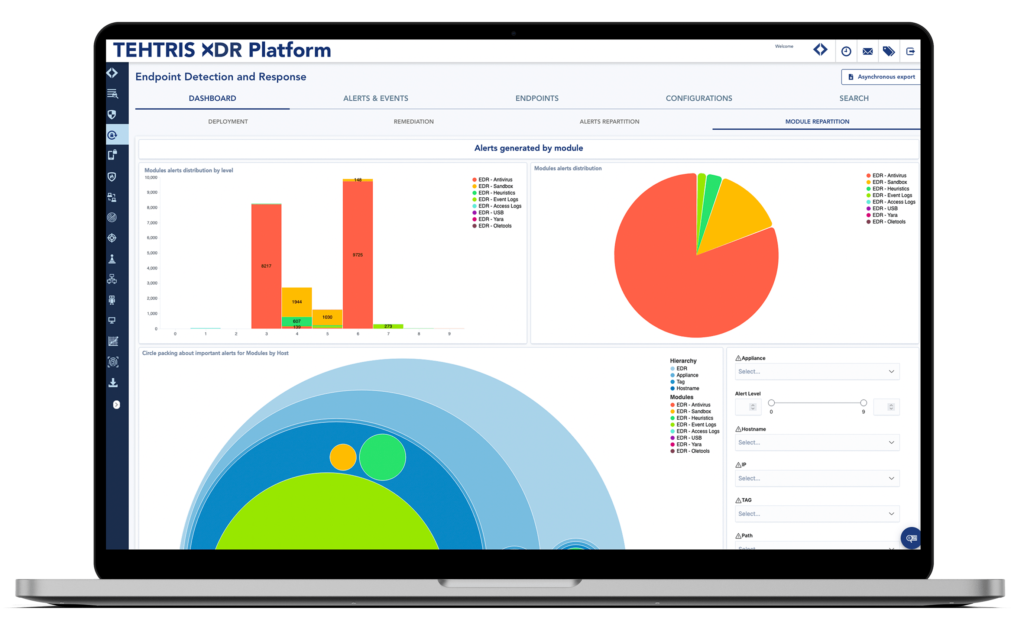 Gestärkte Teams für die sofortige Behebung von Angriffen
Schnelle Reaktionen und Entscheidungen Ihrer Teams sind zum Schutz Ihrer IT-Infrastruktur entscheidend.
TEHTRIS EDR benachrichtigt Ihre Analysten sofort über einen Angriff und gibt Ihnen detaillierte Informationen über seiner Entwicklung und seinen Umfang. Erleichtern Sie die Entscheidungsfindung Ihrer Teams mit TEHTRIS Augmented Technology (Cyber Warehouse, Sandbox, Compliance Audit, Threat Hunting…), die sofort mit TEHTRIS EDR verwendbar sind. Koordinieren und hyperautomatisieren Sie all Ihre Cybersecurity-Lösungen mit TEHTRIS SOAR, damit Ihre Analysten sich auf das Wesentliche konzentrieren können.
TEHTRIS EDR passt sich Ihrem Unternehmen an
Jede IT-Infrastruktur ist anders aufgebaut und hat ihre eigenen Cybersicherheitsanforderungen. Aus diesem Grund ist TEHTRIS EDR vollständig konfigurierbar und lässt sich schnell installieren, um Ihnen die beste Cybersicherheit zu gewährleisten:
Konfigurierbare Hyperautomatisierung: Sie entscheiden, wann Sie über Sicherheitsvorfälle gewarnt werden, ob Sie den Automatic Kill aktivieren wollen u.a.
Anpassbare Filter, um nur die relevantesten Informationen zu finden und die Arbeit Ihrer Analysten zu erleichtern
In weniger als 24 Stunden in Ihrem Unternehmen einsetzbar
Je nach Bedarf installierbar: SaaS, On-Premise oder Hybrid
Nur 1-3% CPU, 90 MB RAM und 50 MB Festplattenplatz werden von TEHTRIS EDR benötigt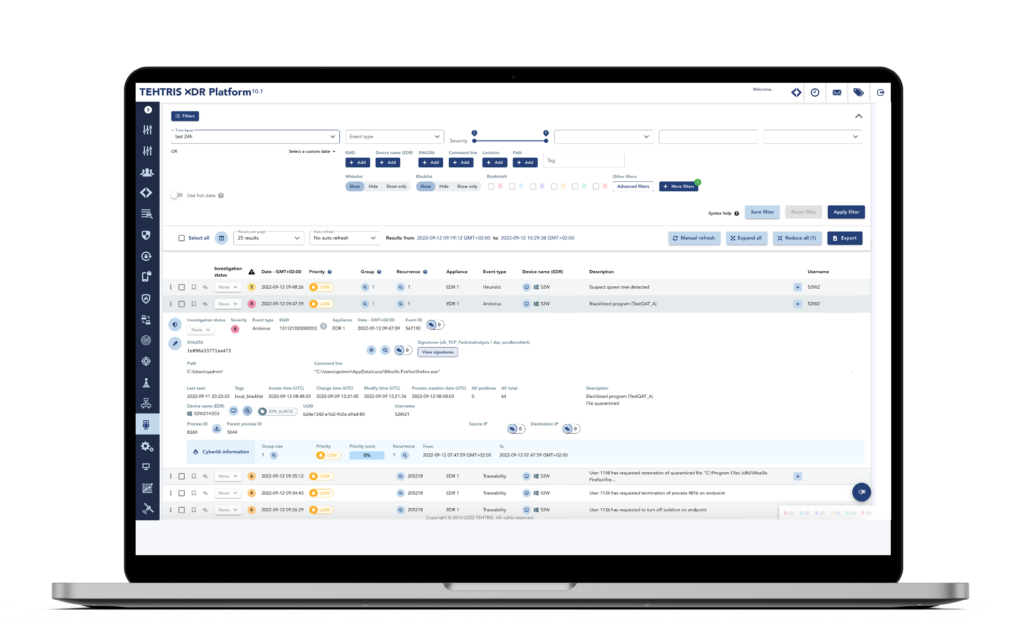 (Security & Ethics by design)
Unsere Kunden warnen uns: Cyber-Lösungen anderer Unternehmen kopieren Daten aus ihrer IT-Infrastruktur und speichern sie in ihrer Cloud. TEHTRIS EDR ist in Europa gehostet. Wir haben keinen Zugriff auf Ihre Dateien, um die Sicherheit Ihrer Daten zu gewährleisten und Ihr Unternehmen vor Spionage zu schützen. Wo Daten gehostet werden sollen, ist für Führungskräfte im heutigen Cyber- und geopolitischen Umfeld zu einer strategischen Entscheidung geworden.
Inbegriffene TEHTRIS Augmented Technology
CTI, SOAR und unsere künstliche Intelligenz CYBERIA: TEHTRIS EDR ist anderen Lösungen einen Schritt voraus und bietet Ihnen einen direkten Zugang zu all seiner Augmented Technology, dank der TEHTRIS XDR Platform.
Erstellen Sie mit TEHTRIS SOAR Ihre eigenen Playbooks in No Code Automation, um all Ihre Cybersicherheit zu hyperautomatisieren und Ihre Cybersecurity-Lösungen zu verbinden (auch externe Lösungen, wie Zscaler, Proofpoint…).
Mit TEHTRIS CTI erhalten Sie Zugriff auf Analyse-, Sandboxing- und Hunting-Tools.
Erreichen Sie mit dem neuronalen Netz (Deep Learning) unserer künstlichen Intelligenz CYBERIA eine unübertroffene Genauigkeit bei der Erkennung bekannter und unbekannter Bedrohungen.
TEHTRIS UES vereinheiltlicht EDR-, EPP- und MTD-Lösungen auf einer Konsole, um die Sicherheit Ihrer Computer, Server und Smartphones zu gewährleisten.

Die Datenbank MITRE ATT&CK modelliert die verschiedenen Phasen eines Cyberangriffs und das Verhalten des Angreifers je nach Zielplattform: Windows, Mac, Linux, Mobilgeräte usw.
Tag zur Integration von TEHTRIS EDR
Länder in denen TEHTRIS eingesetzt wird
EDR in der Cloud bereitgestellt (in weniger als 24 St.) TEHTRIS entwickelt seine Cybersicherheitslösung seit 2010 mit den verschiedenen Modulen der TEHTRIS XDR Platform.
Entscheiden Sie sich für den europäischen Marktführer im Bereich Cybersicherheit!
Do you have an automated remediation function?
TEHTRIS EDR has several features to perform automated remediation, based on predefined parameters, which allows to fight effectively 24/7 against unknown threats, without the risk of depending on a human team that may be missing elements.
Does the EDR contain a vulnerability scan function?
TEHTRIS EDR offers to search for more than 11,000 CVE vulnerabilities, which allows you to discover sometimes totally invisible things, such as machines that are vulnerable because of an old Java engine, Adobe Reader, or Flash, forgotten or installed in "legacy" mode. You can deploy TEHTRIS EDR to audit your IT assets, without consuming excessive resources, and thus have the possibility to ensure the compliance of your assets: patch management policy, risk aversion criteria, etc.
Do you have an application policy type prevention function?
TEHTRIS EDR has several protections against ransomware: the blacklists in our CTI which enrich the choices of EDRs, application security policies to authorize only what you want, Honeytokens-type concepts with fake files that a ransomware will want to destroy while being detected (file-type computer lure), and many behavioral-based mechanisms: attacking certain points on the hard disk, etc.
Do you have protection against lateral attacks?

TEHTRIS EDR has several ways to combat lateral attacks, including the ability to process local logs in the operating system to detect if activity is being attempted remotely. This is a true SIEM tactical, local, capable of knowing whether a session is interactive or not, remote or not, in order to be able to track attacks of this type.
Do you have protection against illegitimate Powershells in an environment where TEHTRIS EDR is used for sytem administration?
TEHTRIS EDR embeds an ultra-sophisticated analysis engine, capable of differentiating between a legitimate product and one that is not, in terms of PowerShell, by analyzing the code executed on the fly so as not to miss any of the many modern and stealthy attacks associated.
* © 2020 The MITRE Corporation. This work is reproduced and distributed with the permission of The MITRE Corporation.
** Gartner and Market Guide are registered trademarks of Gartner, Inc. and/or its affiliates in the U.S. and internationally and is used herein with permission. All rights reserved.
Gartner Market Guide for Extended Detection and Response, Craig Lawson, Peter Firstbrook, Paul Webber, 8 November 2021
TEHTRIS recognized as a Representative Vendor in the 2021 Market Guide for Extended Detection and Response.
Craig Lawson, Peter Firstbrook, Paul Webber, 8 November 2021
Gartner Innovation Insight for Unified Endpoint Security, Rob Smith, Dionisio Zumerle, 12th November 2020,
Gartner Market Guide for Mobile Threat Defense, Dionisio Zumerle, Rob Smith, 29th March 2021,
Gartner Peer Insights reviews constitute the subjective opinions of individual end users based on their own experiences and do not represent the views of Gartner or its affiliates.