Analyze your network flows in real time
TEHTRIS gives you the network visibility you've been looking for. The NTA probe and Deceptive Response honeypots detect threats and suspicious behavior within the network.
Monitor your company's
data flows
Detecting abnormal activity in your corporate network can thwart an advanced attack.
Protect your IT assets by installing decoys and a network probe.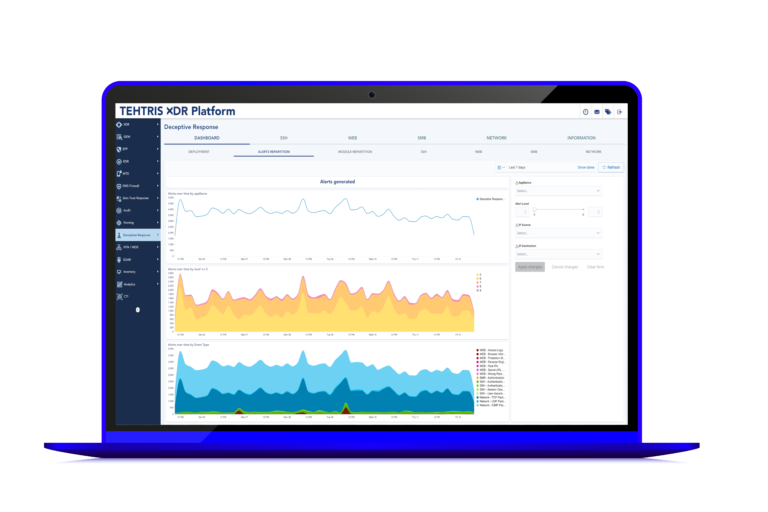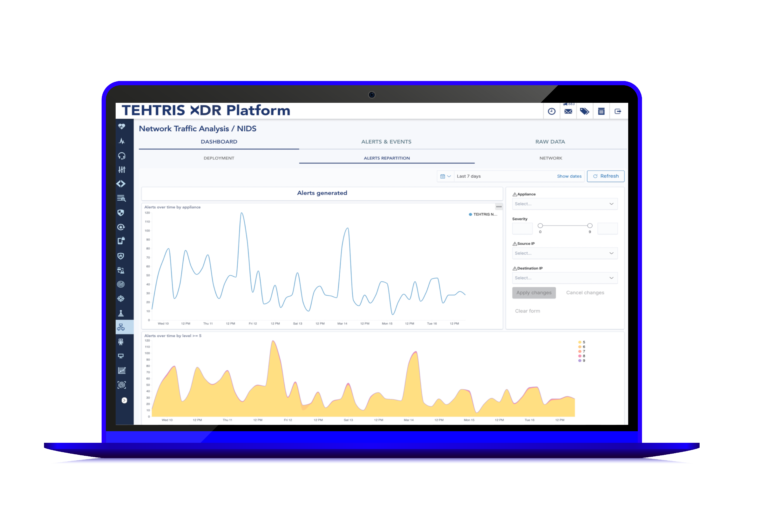 A range to ensure complete security of network flows.
Tactical network flow analysis solution in real time, in North-South and East-West mode.


Behavioral and static detection.


TEHTRIS NTA warns you of lateral movements or slow stealth scans
TEHTRIS DECEPTIVE RESPONSE
Increased detection and response:
TEHTRIS XDR converges the information transmitted by your security equipment on a single interface. Its powerful hyper-automation and threat intelligence capabilities give you immediate reactivity to attacks, without the need for human intervention.

MITRE ATT&CK is a knowledge base with a model of the behavior of a cyber attacker, reflecting the different phases of the attack life cycle according to the targeted platforms: Windows, Mac, Linux, mobile, etc.

Preserve the sovereignty and integrity of your data
Since 2010, TEHTRIS innovates and improves its cyber defense solution, through the different modules of the TEHTRIS XDR Platform.
Choose the European leader in cyber security!
Legal notice
* © 2020 The MITRE Corporation. This work is reproduced and distributed with the permission of The MITRE Corporation.
*** The GARTNER PEER INSIGHTS Logo is a trademark and service mark of Gartner, Inc. and/or its affiliates and is used herein with permission. All rights reserved.
« Gartner Peer Insights reviews constitute the subjective opinions of individual end users based on their own experiences and do not represent the views of Gartner or its affiliates »