Neutralize known and unknown threats in real time.
Without human action.
Gartner lists TEHTRIS as a Representative Vendor in the November 2021 Market Guide for Extended Detection and Response.
Master the unknown with OPTIMUS EDR
Your antivirus software only protects you from known signatures. OPTIMUS EDR detects and neutralizes even unknown and stealthy threats.
24/7 detection and remediation
OPTIMUS EDR is a standalone solution that continuously monitors and protects your assets. The TEHTRIS technology hyper-automates your analyses, detections, and remediations, in real time.
Create your own playbooks
Save crucial seconds in your remediation with our SOAR (integrated into OPTIMUS EDR). Orchestrate and automate your cybersecurity solutions by creating your own playbooks in No Code Automation.
Holistic overview of your infrastructure
Immediately identify where an attack is coming from thanks to a full overview of your infrastructure. OPTIMUS EDR allows you to monitor all your endpoints 24/7 on a single dashboard. With a holistic view of your endpoints, you will detect and neutralize even the stealthiest attacks. Threats that were previously undetected are localized as soon as OPTIMUS EDR is installed. Combined with Shadow IT, which locates unprotected endpoints, OPTIMUS EDR gives you complete visibility into your cybersecurity.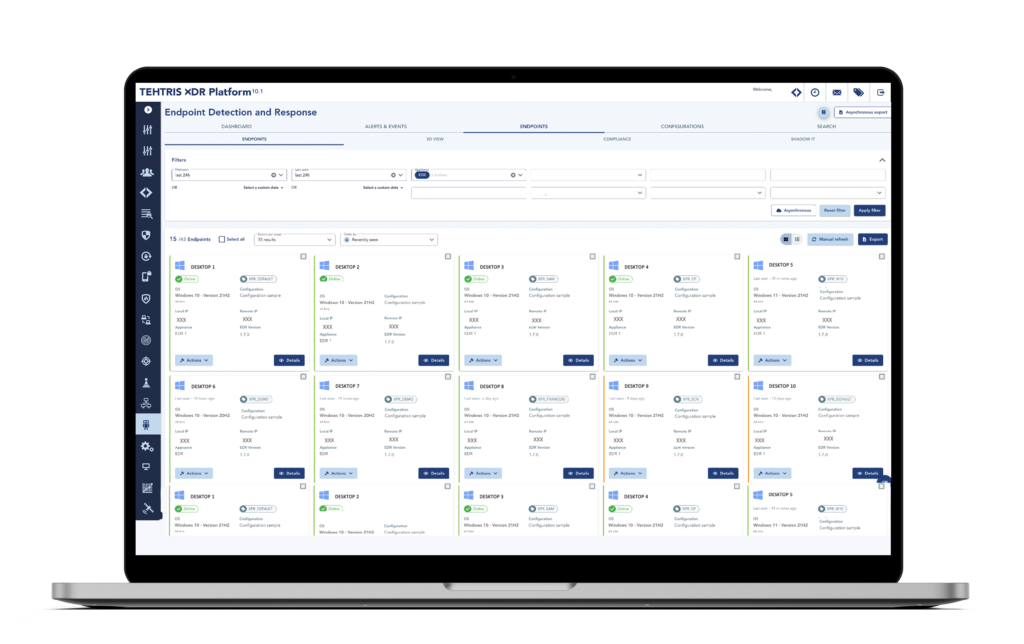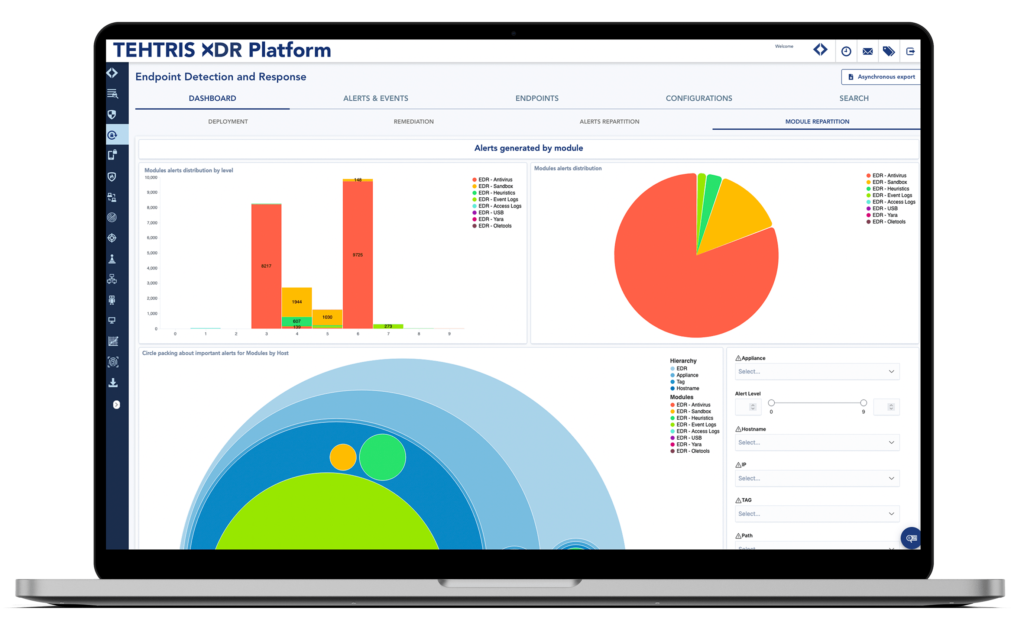 A technology built to support your teams
Quick decision-making and fast responses of your teams play a key role in protecting your assets in case of a threat. When an attack occurs, OPTIMUS EDR immediately alerts your analysts and gives them the exact history and scope of the attack. To facilitate your team's decision-making, OPTIMUS EDR is automatically connected to TEHTRIS CTI, to our Sandboxes that provide you with real-time analysis and to our artificial intelligence CYBERIA. You additionally also get access to our Threat Intel Platform, to support your teams in their investigations (hunting and forensic). Remediations can be hyper-automated thanks to our SOAR, which orchestrates your cybersecurity solutions. With OPTIMUS EDR, your analysts don't waste time on repetitive tasks anymore.
OPTIMUS EDR
and its NGAV with integrated EPP
With OPTIMUS EDR/EPP and its NGAV (Next Gen Antivirus) you will get the real-time protection of OPTIMUS EDR/EPP and the detection capabilities of a NGAV in the same solution. Unlike a traditional antivirus that only checks lists of known signatures, our NGAV detects known and unknown malware thanks to its neural networks (Deep Learning). With OPTIMUS EDR/EPP and its integrated NGAV, endpoint configuration and management are unified. No need to monitor multiple products simultaneously, all your security is provided by OPTIMUS EDR/EPP on our XDR Platform.
Get all the benefits from an EDR and a NGAV in a single solution. OPTIMUS EDR/EPP is deployed in less than 24 hours and only uses 1-3% CPU, 90 MB RAM and 50 MB disk space.
OPTIMUS EDR with its signature database and integrated EPP
By adding a signature database to OPTIMUS EDR/EPP, you will get all the features of an EPP directly with your EDR. Our signature database comes with an antivirus engine and is continuously updated to detect and respond faster to threats. Even if your systems are disconnected, the signature database continues to protect you. OPTIMUS EDR/EPP with a signature database ensures the security of your workstations and servers and works in all your Windows infrastructures.
OPTIMUS EDR/EPP with a signature database has an anti-phishing module that blocks malware downloading. Manage all your peripheral devices with our Device Control module which raises an alert as soon as a device is connected.
Adapt OPTIMUS EDR to your business
Every infrastructure is different and has its own cybersecurity needs. The more your cybersolutions are customized, the more effective they are. That's why OPTIMUS EDR is fully configurable, with an optimized installation, to provide you with high-performance security:
Installation according to your needs: SaaS, on-prem or hybrid
Customizable hyper-automation: level of the security alerts, Automatic Kill activation or not…
Configurable filters to find the most relevant information and facilitate the work of your analysts
Remote execution of your custom scripts: investigations, file deletions on a device…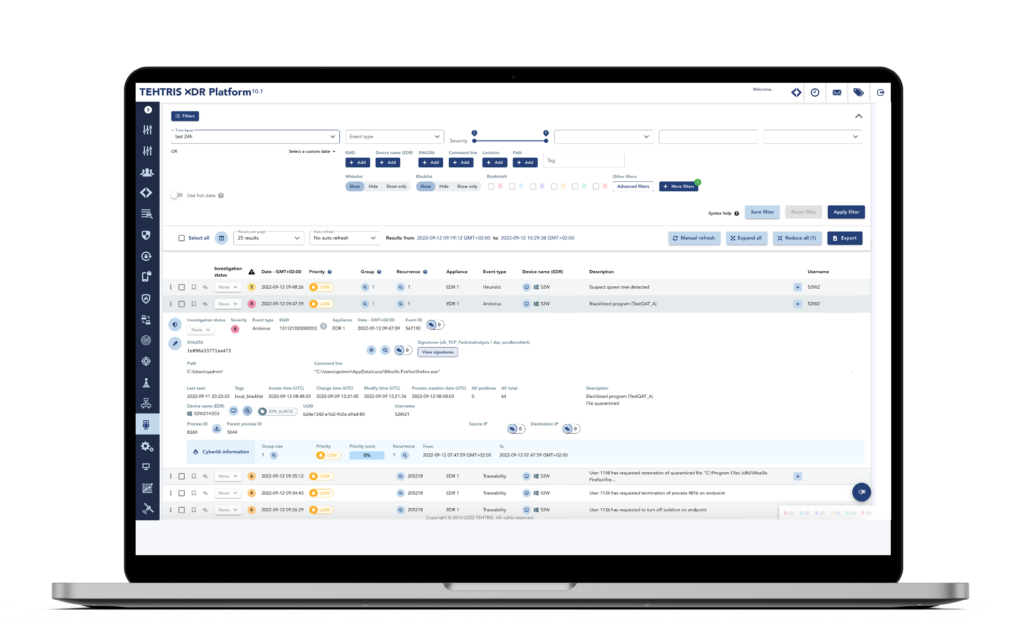 Stay in control of your data 
(Security & Ethics by design)
Our customers are alerting us: competing cybersolutions are retrieving their customer's data and backing it up to their cloud. OPTIMUS EDR is hosted in Europe. We do not have access to your files nor your data in order to protect your company from espionage. In today's cyber and geopolitical climate, choosing where to host your data has become a strategic decision for business leaders.
All our augmented technology included
CTI, SOAR, and our artificial intelligence CYBERIA: OPTIMUS EDR goes further than other solutions by offering you all its augmented technology via the TEHTRIS XDR Platform.
Create your own playbooks (in No Code Automation) with the SOAR to make your solutions interact (even with partners solutions such as Zscaler, Proofpoint…) and hyper-automate your cybersecurity.
Get access to instant analysis, sandboxing and hunting tools with TEHTRIS CTI.
Detect known and unknown threats with the neural networks (Deep Learning) of our artificial intelligence CYBERIA
These features are essential for an optimal protection of your assets and are directly accessible with OPTIMUS EDR.
Increased efficiency with Unified Endpoint Security approach
Unify the security of all your endpoints (computers, servers, smartphones, tablets…) with the TEHTRIS UES bundle, which combines EDR, EPP and MTD in a single console.

MITRE ATT&CK is a knowledge base with a model of the behavior of a cyber attacker, reflecting the different phases of the attack life cycle according to the targeted platforms: Windows, Mac, Linux, mobile, etc.
Day to integrate OPTIMUS EDR
Countries where our technologies are deployed to detect and respond to incidents
EDR deployed in the cloud in less than 24 hours

Preserve the sovereignty and integrity of your data
Since 2010, TEHTRIS innovates and improves its cyber defense solution, through the different modules of the TEHTRIS XDR Platform.
Choose the European leader in cyber security!
Frequently Asked Questions
Do you have an automated remediation function?
TEHTRIS EDR has several features to perform automated remediation, based on predefined parameters, which allows to fight effectively 24/7 against unknown threats, without the risk of depending on a human team that may be missing elements.
Does the EDR contain a vulnerability scan function?
TEHTRIS EDR offers to search for more than 11,000 CVE vulnerabilities, which allows you to discover sometimes totally invisible things, such as machines that are vulnerable because of an old Java engine, Adobe Reader, or Flash, forgotten or installed in "legacy" mode. You can deploy TEHTRIS EDR to audit your IT assets, without consuming excessive resources, and thus have the possibility to ensure the compliance of your assets: patch management policy, risk aversion criteria, etc.
Do you have an application policy type prevention function?
TEHTRIS EDR has several protections against ransomware: the blacklists in our CTI which enrich the choices of EDRs, application security policies to authorize only what you want, Honeytokens-type concepts with fake files that a ransomware will want to destroy while being detected (file-type computer lure), and many behavioral-based mechanisms: attacking certain points on the hard disk, etc.
Do you have protection against lateral attacks?

TEHTRIS EDR has several ways to combat lateral attacks, including the ability to process local logs in the operating system to detect if activity is being attempted remotely. This is a true SIEM tactical, local, capable of knowing whether a session is interactive or not, remote or not, in order to be able to track attacks of this type.
Do you have protection against illegitimate Powershells in an environment where TEHTRIS EDR is used for sytem administration?
TEHTRIS EDR embeds an ultra-sophisticated analysis engine, capable of differentiating between a legitimate product and one that is not, in terms of PowerShell, by analyzing the code executed on the fly so as not to miss any of the many modern and stealthy attacks associated.