You're the guardian of the cyperspace.
Hyperautomate your operations.
Gartner lists TEHTRIS as a Representative Vendor in the November 2021 Market Guide for Extended Detection and Response.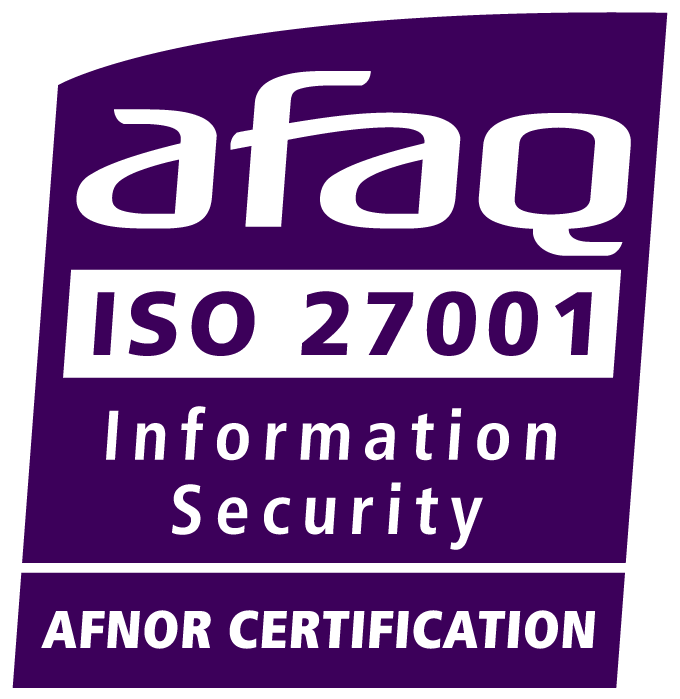 Why choose TEHTRIS XDR Platform?
Create your own playbooks and interconnect your cyber solutions
Orchestrate all your cyber tools from a single console and get quicker responses to attacks. Automate your processes, create on-call scenarios, and group your alerts into single incidents.
Unmatched detection of known and unknown threats
Detect all types of threats, even threats from weak signals or spotted by different solutions with the TEHTRIS XDR Platform and prevent security breaches.
Real-time remediation
The TEHTRIS XDR Platform hyperautomates your response to attacks and coordinates all your solutions "with strong actions" (Gartner)*, in addition to ingesting your security events.
All your cybersecurity in a single console
Unify your cybersecurity by bringing together all your solutions in a single console for high-speed detections and responses. Within the TEHTRIS XDR Platform, you will find an EDR, MTD, SIEM, Honeypots, NTA and our DNS Firewall.
Orchestrate all your cybersecurity tools simultaneously, including your existing solutions such as Zscaler and Proofpoint, with the TEHTRIS XDR Platform. Our platform is available in our secured cloud or on-prem. Easily deploy it in your ecosystem with in & out APIs. With its customizable playbooks and its hyperautomation capabilities you will get immediate response to cyberattacks.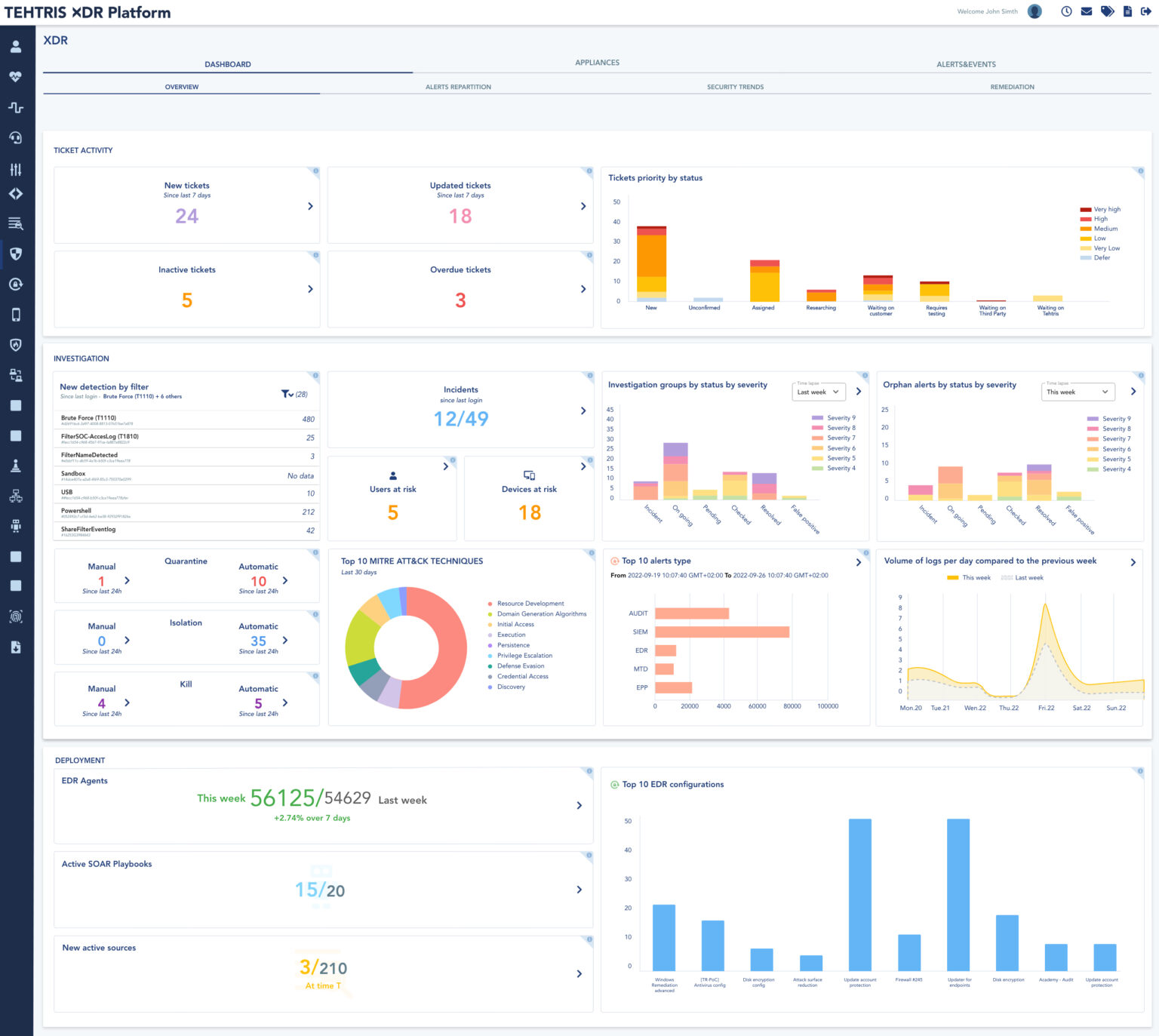 All of TEHTRIS augmented technology included
Get all TEHTRIS augmented technology directly with the XDR Platform. In addition to unifying all your cyber solutions to accelerate detection and response to attacks, the TEHTRIS XDR Platform offers you all its analytics intelligence. 
 
Each module of the TEHTRIS XDR Platform uses the TEHTRIS augmented technology to achieve quicker detections, investigations and remediations. You will get: 
Our CTI
(Cyber Threat Intelligence)
A continuously updated Cyber Warehouse. With it, you will have the right tools for instant analysis, sandboxing and hunting.
To orchestrate all your cyber solutions, including partners of the TEHTRIS XDR Platform. It lets you create your own playbooks to get hyperautomated detections and responses. 
Our artificial intelligence CYBERIA
Developed and edited directly by TEHTRIS, it works with all the modules of the platform to get you the most effective detection and response, thanks to its neural network (Deep Learning). 
A behavioral analysis engine based on Machine Learning and integrated with TEHTRIS SIEM. It automatically detects irregular behaviors. 
Prioritizes EDR alerts, detects anomalies and automatically groups events to facilitate the work of your analysts. 
Strengthened collaboration within your teams
Your team responsiveness is the key to successful protection. At TEHTRIS, we believe that this needed reactivity comes from a close-knit team, which has been given the best technical tools to collaborate easily, quickly, and effectively in the event of an alert. 
 
To support your teams, address the current shortage of analysts and reduce MTTD and MTTR, the TEHTRIS XDR Platform offers several features: 
Hyperautomated response to attacks 
Contextualization of events directly on the platform 
Alerts for your analysts during an attack 
Possibility to create investigative groups within the XDR Platform 
Enhanced filter management and co-publishing capabilities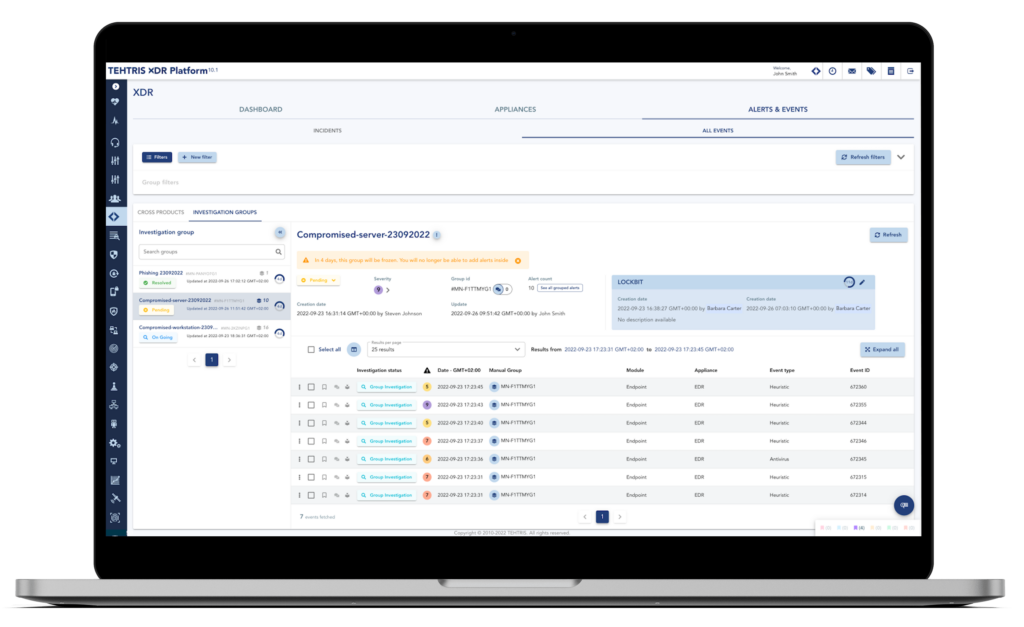 More security with a unique European technology
More and more customers are alerting us: competing cyber solutions retrieve all the data from their fleet and store it in their cloud. Developed, edited, and hosted in Europe, we have designed our products, and the TEHTRIS XDR Platform, to not have access to your files and to protect your company from industrial espionage. Choosing where to host your data has become a strategic decision for business leaders in the current cyber and geopolitical context. 

MITRE ATT&CK is a knowledge base with a model of the behavior of a cyber attacker, reflecting the different phases of the attack life cycle according to the targeted platforms: Windows, Mac, Linux, mobile, etc.
Day to deploy TEHTRIS XDR PLATFORM for an enterprise with over 100,000 stations and servers
Countries where our technologies are deployed for incident detection and response
Days to uncover some of the stealthy espionage-type APT threats that have been hidden for several years in a complex international park

Preserve the sovereignty and integrity of your data
Since 2010, TEHTRIS innovates and improves its cyber defense solution, through the different modules of the TEHTRIS XDR Platform.
Choose the European leader in cyber security!
* © 2020 The MITRE Corporation. This work is reproduced and distributed with the permission of The MITRE Corporation.
** Gartner and Market Guide are registered trademarks of Gartner, Inc. and/or its affiliates in the U.S. and internationally and is used herein with permission. All rights reserved.
Gartner Market Guide for Extended Detection and Response, Craig Lawson, Peter Firstbrook, Paul Webber, 8 November 2021
TEHTRIS recognized as a Representative Vendor in the 2021 Market Guide for Extended Detection and Response.
Craig Lawson, Peter Firstbrook, Paul Webber, 8 November 2021
Gartner Innovation Insight for Unified Endpoint Security, Rob Smith, Dionisio Zumerle, 12th November 2020,
Gartner Market Guide for Mobile Threat Defense, Dionisio Zumerle, Rob Smith, 29th March 2021,
Gartner Peer Insights reviews constitute the subjective opinions of individual end users based on their own experiences and do not represent the views of Gartner or its affiliates.
Project funded by the Nouvelle-Aquitaine Region