Securing the infrastructure, in your data centers and in the Cloud
Infrastructures have evolved under the influence of telecommuting, interconnection and the migration of applications to the Cloud. TEHTRIS supports the transition from strong castle mode to intelligent security for modern infrastructures.
Reduce the attack surface with better control
In the era of hybrid and interconnected networks where nomadic collaborators evolve, a new security paradigm is emerging: access to these networks and to the applications they host is the key. TEHTRIS helps you to control these accesses.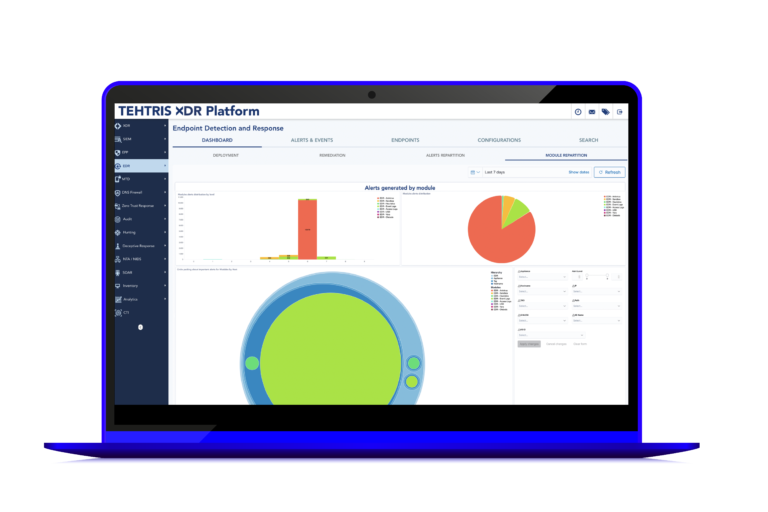 Discover our products to ensure complete infrastructure and cloud security.
A defensive tool against perimeter and internal threats. TEHTRIS DNS Firewall filters DNS requests related to suspicious or dangerous domains, protecting your users from malware infection and exceeding the performance of an IP Firewall.
Discover TEHTRIS DNS FIREWALL
TEHTRIS ZERO TRUST RESPONSE
Unique Zero Trust Network Access offering with native automatic incident response capabilities. Secure access to thousands of applications and devices quickly and easily.
Discover TEHTRIS ZTR
TEHTRIS CLOUD WORKLOAD PROTECTION PLATFORM
Forget about breaches in the cloud with TEHTRIS CWPP. Our CWPP platform extends the protection capabilities of TEHTRIS SIEM to the cloud and gives you tenfold visibility into your inbound and outbound traffic.
Discover TEHTRIS CWPP
TEHTRIS XDR breaks down silos by converging the information from your cyber assets into a single location. The TEHTRIS SOAR and CTI embedded in our XDR platform gives you the ability to respond automatically and immediately to attacks, without the need for human intervention.

MITRE ATT&CK is a knowledge base with a model of the behavior of a cyber attacker, reflecting the different phases of the attack life cycle according to the targeted platforms: Windows, Mac, Linux, mobile, etc.

Preserve the sovereignty and integrity of your data
Since 2010, TEHTRIS innovates and improves its cyber defense solution, through the different modules of the TEHTRIS XDR Platform.
Choose the European leader in cyber security!
News about infrastructures and the cloud
* © 2020 The MITRE Corporation. This work is reproduced and distributed with the permission of The MITRE Corporation.
** Gartner and Market Guide are registered trademarks of Gartner, Inc. and/or its affiliates in the U.S. and internationally and is used herein with permission. All rights reserved.
Gartner Innovation Insight for Unified Endpoint Security,Rob Smith, Dionisio Zumerle,12th November 2020,
Gartner Market Guide for Mobile Threat Defense,Dionisio Zumerle, Rob Smith,29th March 2021,
Gartner Peer Insights reviews constitute the subjective opinions of individual end users based on their own experiences and do not represent the views of Gartner or its affiliates.